Published: December 22, 2015
BOXMEER, THE NETHERLANDS | SPGPrints reports the sale of a six-station DSI digital UV inkjet press to label manufacturer Adamtec, Valencia, Spain. The purchase took place at last fall's Labelexpo Europe in Brussels, Belgium.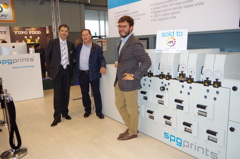 The converter says the purchase was made to meet the demand for short production runs from customers in the food, chemical, and automotive industries. The 330-mm (13-in.) press features the standard CMYK, white, and a digital primer.
Jaume Crespo, general manager at Adamtec, says, "From the trial results, and the support from SPGPrints' technical people, it was clear that the DSI could give us the flexibility to offer variable data and the quality to deliver the consistency and high-impact branding solutions on which our brand and customers depend. Another influencing factor was the performance of SPG's inks, which gives us an opacity equivalent to screen-printing and strong resistance needed for industrial situations."
The DSI press features as standard intermittent LED pinning between each color station to ensure immediate curing and ink stability at fast speeds, and a chill drum to stabilize film substrates. This feature is reported to be of great benefit to Adamtec, which supplies high quantities of PP labels to the food and chemical industries
Crespo says, "With the acquisition of the DSI press, we will be able to print individualized labels in the same production run, which we believe it is great value to our customers, and therefore a strong growth area for us. Our automotive customers, for instance, are seeking serialized battery labels and the ability to tailor information for each region. The DSI press will enable us to adapt label designs at short notice, and schedule these jobs with minimal material waste or setup time."
This email address is being protected from spambots. You need JavaScript enabled to view it.