Published: December 03, 2015
CINCINNATI, OH | Nilpeter USA recently held a "Bases Loaded Open House" to showcase its newly renovated Technology Center. More than 140 visitors were shown three narrow web flexo presses, and new and emerging trends were displayed, discussed, and demonstrated.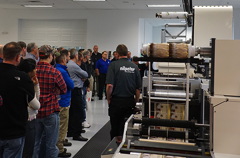 On first base the FB-3300 showed visitors a multi-web Extended Content Label application.
Visitors on second base had the opportunity to see the FB-3 running two Expanded Gamut Printing samples showing the full fixed pallet application and the total job save and recall automation of the press.
On third base was a fully automated FA-4* running wine and spirit labels with full flatbed processing of hot foil and embossing.
The company also announced the release of its new PANORAMA product line of digital solutions. Available the first quarter 2016 in North America, the combined DP-3 digital press and complete converting solution will be coming to the Nilpeter Technology Center in Cincinnati.
Keynote speaker Dr. Charles "Chip" Tonkin provided an in-depth look at "The Future of Packaging Design," with a deeper look at the consumer research being done to identify with packaging trends, packaging life cycle, and sustainability concerns, and rounding home with a look into the future of functional printing and printed electronics. All these are key indicators of the new and emerging trends of tomorrow's packaging, says the company.
Nilpeter also announced its commitment to an ongoing educational endeavor. In the first quarter of 2016, the company will be placing a completely outfitted FB-3 13-in., fully automated servo press at Clemson University Graphics Communication Center. Reportedly, the press will allow a new generation of packaging innovators to research and create dynamic packaging solutions for the future.
This email address is being protected from spambots. You need JavaScript enabled to view it.