Published: October 09, 2015
NEW OXFORD, PA | Yazoo Mills, a manufacturer of paper tubes and cores, reports the completion of a 45,000-sq-ft expansion at its Manufacturing and Distribution Center in Hanover, PA.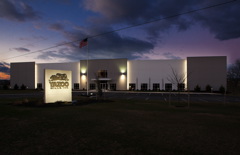 After only three years in operation, the company doubled the size of this facility to a total of 90,000 sq ft. It now operates two state-of-the-art facilities totaling 240,000 sq ft.
The Manufacturing and Distribution Center expansion is integral to company's growth strategy, and the investment in the newly expanded facility is said to reflect the strength of business and the increasingly important role that service levels contribute to the company's success.
Company says this facility houses the largest stock paper tube and core program in the industry, and with the increased square footage, it will be able to add more to its offerings. The expansion will also enable the company to continue to fulfill its long-term commitment to deliver customer satisfaction, speed to market, and quality, American-made products.
This email address is being protected from spambots. You need JavaScript enabled to view it.