Published: July 28, 2015
PATERSON, NJ | The two families from Lemtech International and Passaic Rubber Co. go back generations. That's how James Leach, VP of operations at Passaic Rubber, knew who to call when he was having issues with wrinkling on one of his production lines.
The relationship between Passaic Rubber and Lemtech International has been reciprocal through the years, with Passaic Rubber supplying rubber-covered rollers to Lemtech, and Lemtech providing converting equipment, and in this case, a Lemex Polyband Expander Roll to solve the wrinkling issues that were occurring on a rubber calender line at Passaic Rubber.

The production line in question produces high quality rubber sheet for the construction industry. The interleaf wrinkling issue was getting to the point where it was transferring defects into the rubber sheet.
"We have had consistent wrinkling issues with our 0.003-in. polyethylene interleaf web prior to winding," says Leach. "Our existing setup utilized a bow roll to help with wrinkles, but on certain products it just wasn't doing the job."
That's when he called Paul Lembo of Lemtech International to learn more about the Lemex Polyband Expander Roll. Polyband spreaders rolls such as the Lemex utilize a series of bands around the periphery of the roll that expand as the web passes over them, creating a uniform spreading action from the center of the roll out to the edges.
"The Leaches invited me over to their facility to see the wrinkling issues they were having on one of their rubber calendering lines," said Lembo. "After seeing the application, I was confident the Lemex would solve their wrinkling problems."
In order to be sure, Lemtech shipped one of their demo rolls over to Passaic Rubber, which fit nicely into the 70-in. wide production line. "Installation of the roll was simple, and being able to see the roll in action prior to writing a purchase order was really beneficial," said Leach. "The Lemex roll took the wrinkles out of even our most problematic substrates."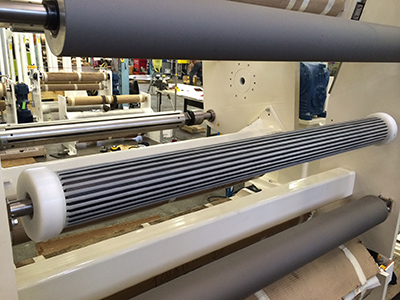 Based on the performance of the Lemex on the interleaf polyethylene, Leach plans to try the Lemex on some of their thin calendered rubber products where wrinkling has been an issue. "Polyband expander rolls are quite versatile with the number of substrates on which they are effective," says Lembo. "We recommend the Lemex for a variety of webs, including but not limited to acrylics, polyethylene, polyester, polypropylene, vinyls, cotton, knits, rubber, foams, and synthetics. Additionally, in similar fashion to what was done for Passaic Rubber, we are happy to send out a demo roll for applications in which we have limited experience or the client needs to witness the rolls performance prior to purchase."
"We are really excited to continue a working relationship, which goes back over half a century," says Lembo. Even after all these years the two families are finding new ways in which they can work together.