Published: May 07, 2015
CHICAGO, IL | At FoodPex 2015, International Trade Fair for the Food Processing and Packaging Industries, Messe Düsseldorf North America (MDNA) will organize a US Pavilion with the support of the Food Processing Suppliers Association (FPSA). FoodPex 2015 is part of the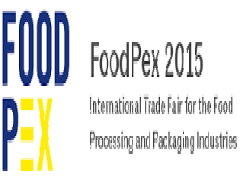 newly launched SWOP - Shanghai World of Packaging, to be held from November 17–20, 2015, at the Shanghai New Exhibition Center (SNIEC).
SWOP will consist of four trade shows, presenting all stages of the packaging value added chain and related processing segments (packaging materials production, package printing, pharmaceutical and cosmetic packaging, food processing and packaging, bulk and outer packaging).
The US Pavilion offers exhibitors an all-inclusive turnkey package with a fully furnished booth, Wi-Fi internet access, a lounge area with light refreshments, a bilingual hostess, extra meeting space, and the onsite service of a project manager. FoodPex 2015 will concentrate on packaging solutions for the food and beverage industry. The scope of the exhibits includes food packaging and processing machinery and accessories, food safety technologies, food preservation equipment, testing and measuring equipment, as well as waste disposal and sanitation.
According to MDNA, it is predicted that in 2015 China will supersede the US as the largest food market in the world, with an anticipated increase of the market volume to more than EUR 1 billion. The country is experiencing growing demand in food processing and packaging due to the modern Chinese consumers' demand for quality and hygiene in food. With authorities currently revising food safety laws for stricter food safety compliance and implementation, the food processing and packaging industry in China is compelled to upgrade its equipment by investing in advanced technologies.
Visitors at FoodPex 2015 will include food manufacturers, representatives from the catering and food service, food safety and food quality sectors, as well as importers, exporters, and distributors.
The SWOP trade show quartet is organized by Messe Düsseldorf and its subsidiary Messe Düsseldorf Shanghai in cooperation with its long-time partner Adsale Exhibition Services and the China Center for Food & Drug International Exchange (CCFDIE). SWOP is said to offer a one-stop packaging and processing solution and interactive exchange platform for packaging and printing companies, end-product manufacturers, and other buyers.
This email address is being protected from spambots. You need JavaScript enabled to view it.