Published: April 20, 2015
ROCHESTER, NH | Dover Flexo Electronics (DFE) offers iAmp2 amplifier modules, miniature tension transducer signal amplifiers powered by 24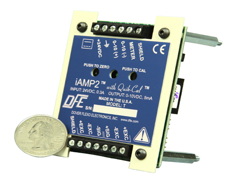 volts DC and output a 0-10 Volt isolated signal proportional to tension. Said to simplify web tension measurement, these modules are available with the extended range option and with a streamlined surface mount option.
Company says using the module is a simple alternative to mounting a larger, less flexible electronics device--usually a transducer-interface circuit card or complete indication package--on a press or machine frame for tension monitoring.
The iAmp2 connects in one of two ways to the transducer(s) and to PLC, drive, or other control device. Connections from tension transducers can be made directly via cable with standard industrial connectors on both ends (1C configuration) or via cable with flying leads going into terminal strips at the input and output of the iAmp2 (TT configuration).
With the Quik-Cal feature, recessed push buttons on the module face are used instead of potentiometers for zero and calibration settings. This reportedly saves set-up time since no tension display is needed, no screwdriver is needed, and no second person is needed to assist. The Zero and Cal settings are stored digitally.
This email address is being protected from spambots. You need JavaScript enabled to view it.