Published: April 10, 2015
MENOMONEE FALLS, WI | Enercon Industries Corporation is releasing the Pro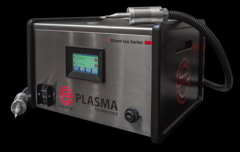 Series of industrial blown arc and blown ion plasma treaters. These new systems are said to provide users with simplified integration and operation, maximum uptime, and powerful treatment to clean, etch, and functionalize surfaces to promote the adhesion of inks, coatings, and adhesives.
The series offers an intuitive touch screen interface that reportedly enables more treatment control than ever before. Independent head control, advanced diagnostics and monitoring, and on-board troubleshooting are all included in this new package.
Company's engineers have developed a stainless steel cabinet for use in virtually any environment. The cabinet features a USB port that allows users to download system data and upload future software upgrades.
CONTACT COMPANY (mailto:This email address is being protected from spambots. You need JavaScript enabled to view it.)