Published: March 25, 2015
MIDDLEBOROUGH, MA | Butler Automatic announces that its SP1 Series Automatic Film Splicer is ideally suited for food and beverage packaging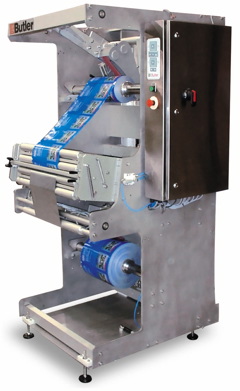 applications. The splicer is said to increase efficiency by eliminating the packaging line downtime caused by manual film roll changes.
"The SP1 Automatic Film Splicer is an excellent investment for so many food and beverage packaging operations because it drastically increases production uptime," says Mike Mucci, VP of engineering at Butler. "Our customers see a complete return on their investment in just a few months."
With a simple mechanical design and high quality manufacture, the splicer promises long-term, trouble-free performance. The device senses the diameter of the expiring roll of film and automatically splices the end of each expiring roll onto the new roll. It is capable of running at speeds to 600 fpm.
In addition to the standard SP1 automatic splicer, Butler offers the SP1 RB, designed for full wash-down capability. The SP1 RB is built to standards common with many regulatory requirements. It features mostly stainless steel construction, with only specific splicing head cylinders using coated aluminum, and has minimal flat surfaces.
This email address is being protected from spambots. You need JavaScript enabled to view it.