Published: February 09, 2015
MENOMONEE FALLS, WI | Enercon Industries Corporation will display the

Compak ProFlex Power Supply, company's newest power supply at ICE USA 2015, February 10–12, at the Orange County Convention Center in Orlando, FL.
Featuring an intuitive touch screen control interface, the unit offers universal input voltage compatibility; integrated start-up features including exhaust blower, electrode assemblies, and wet start for humid environments;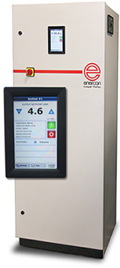 local/Remote/Network control options; recipes, operator lockout, custom functions, and more.
Power supply is said to offer converters and film extruders a new generation of
corona treatment power and control. It is universally compatible with any surface treater station and accepts input voltages from 380–480v.
Intuitive touch screen control guides the operator through basic settings and advanced options including watt density control, proportional speed control, system operation fault diagnostics, integrated startup, and much more.
This email address is being protected from spambots. You need JavaScript enabled to view it.