Published: December 29, 2014
COHOES, NY | Mohawk, manufacturer of fine papers, envelopes, and specialty substrates for digital and commercial printing, reports plans to operate a new state-of-the-art envelope manufacturing facility in South Hadley, MA, resulting in the creation of up to 40 new jobs.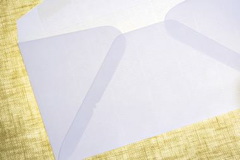 Mohawk intends to enter into a seven-year lease agreement on the 112,342-sq-ft facility beginning January 1, 2015. Pending successful completion of the ongoing lease negotiation, construction is scheduled to begin in early January, and the facility is expected to be fully functional by the end of April 2015.
"Our plan to create a new envelope converting facility in South Hadley, Massachusetts represents our commitment to further growth of Mohawk's envelope business," says Thomas D. O'Connor Jr., Mohawk chairman and CEO. "Since January of this year, we have committed to investments of nearly $5 million in new envelope converting equipment and facility upgrades, and the creation of 100 new jobs for skilled envelope workers. Our envelope business is vibrant, rapidly growing, and we are uniquely positioned to serve our customers with fast delivery, exceptional integrity, and the highest quality envelopes available in the industry."
Mohawk will invest up to $2 million to retrofit the South Hadley facility, including upgrades to electrical systems, installation of air and vacuum lines, and the purchase and installation of envelope converting and manufacturing equipment. The company expects to produce more than 500 million envelopes annually at the new facility. The site will also feature warehouse space to service customers along the East Coast and Mid-Atlantic regions, as well as overseas businesses.
"The town of South Hadley has been extremely cooperative and supportive of our interest in opening a new envelope manufacturing and distribution facility," says O'Connor. "We're grateful for the guidance we've received from Town Administrator Michael Sullivan and Michael Vedovelli, Senior Regional Director of the Massachusetts Office of Business Development. We're looking forward to joining the South Hadley business community."
According to Bob Scammell, Mohawk's senior VP, Strategy and Business Operations, "We selected the South Hadley location because the layout of the building is ideal for our manufacturing needs, the site is essentially move-in ready, it requires minimal construction prior to becoming operational, and there is an abundant pool of highly skilled envelope workers in Western Massachusetts."