Published: December 18, 2014
MISSISSAUGA, ON, CANADA | Film and sheet extrusion systems supplier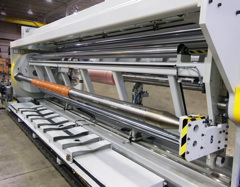 Macro Engineering & Technology reports it has developed a universal winder that can wind either wide sheeting or narrow films on center, a configuration said to be ideal for winding materials produced on geomembrane/agricultural film swing lines.
The winder is a center-turret type with two winding modes: a fully automatic mode for agricultural films and a semi-automatic mode for geomembranes where operators need to manually attach the sheet to the core.
The machine accommodates webs with thicknesses between 30 and 2,500 microns and widths between 1.0 m and 6.2 m. It winds rolls to 800 mm in diameter on 150-mm cores. The winder operates at speeds to 120 mpm, can wind slit rolls (multiple ups), folded films, and gusseted films (up to 8 folds). Rolls are automatically removed from the winder with an unloading cart.
This email address is being protected from spambots. You need JavaScript enabled to view it.