Published: October 03, 2014
MIAMI, FL | Karlville Development Group, a global manufacturer of shrink sleeve converting and shrink sleeve application, pouch converting, and narrow web slitting/inspection equipment, offers several products, including the following: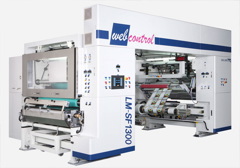 • The compact solventless laminator features a five-roller coating system, rigid shaftless unwind/rewind units, driven, with closed loop tension control via dancer roller and what is said to be exceptional lamination pressure control.
• The K2 Model stand-alone seamer operates at 300 mpm and forms sleeves via an adjustable forming section. The machine is available in 300-mm and 400-mm lay-flat models. Machine features fast changeover rewind and unwind air shafts and can be upgraded with turret unwinds and turret rewinds.
• The Inspect-V for narrow web inspection needs reportedly solves quality control issues, returned rolls, edge problems, or simply rewinding a roll
• The new HSC compact slitter runs at speeds of 300 mpm and is available in widths of 1,000/1,300 mm. The unwind diameter is 800 mm, and the rewind diameter is 500/600 mm. Slit widths are 25 mm and up. The machine features shaftless unwind integrated drive and control cabinet, roll Lift - In System, splice table, linear lay-on rollers, and finished roll handling.
This email address is being protected from spambots. You need JavaScript enabled to view it.