Published: September 24, 2014
WEST CALDWELL, NJ | CTC announces the Spray N Tape turret rewinder, which utilizes a hot melt spray core glue to attach the new web to the cores. System features the ability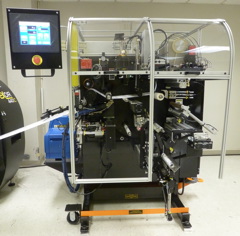 to apply a minimum amount of light tach hot melt adhesive, reportedly allowing the clean release of the last label off the core. The sprayer can be set up to apply the glue on the cores in virtually any desired pattern, while minimizing waste.
System is said to reduce job changeover time by eliminating the need to move glue wheels when jobs change to different web strip widths.
Rolls are closed via the tail taping system, which uses ordinary masking tape to close the rolls precisely. The length of the closure tape can be varied via a simple adjustment to meet varied needs. Company says the advantage of the tape versus a tail labeler is that there are no tail labels needed to be pre cut, yet the taping system still allows the use of virtually 100% of the labels on the completed roll.
The turret is available in finished roll diameters of 8, 13, or 24 in. A wide range of web widths is available for the machine.
This email address is being protected from spambots. You need JavaScript enabled to view it.