Published: August 13, 2014
SLAGELSE, DENMARK | G3 Enterprises, Modesto, CA, has added an 11-color Nilpeter FA-4 multi-substrate flexographic press to its plant. The press features Nilpeter's CLEANINKING quick-change inking system as well as the "QC-Die" quick-change die unit for fast job changeovers. For the latest in decorative technologies, the press is also equipped with the FP-4 flatbed unit for high quality in-line hot foil and embossing and the Nilscreen for high quality special effects and opaque white.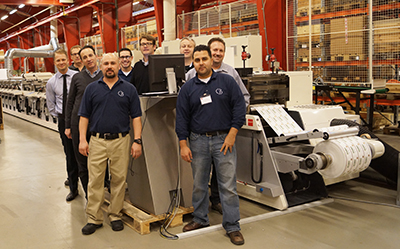 Together with Nilpeter, G3 Enterprises configured the new press to meet the specific needs concerning flexibility and printing quality to exceed that of offset printing. G3 worked alongside Nilpeter engineers to custom-build the new press to provide state-of-the-art printing solutions.
"The benefits, this press provides us, are tremendous," says James Stone, G3's new business development manager. "Flat tooling gives wine label designers more creative license, while allowing for a broader range in stamping and embossing to meet the more challenging label designs, which, in the past, required special equipment for detailing," Stone says. "Clean printing can be a challenge on premium uncoated wine label stocks, but this press has precision impression control, which provides clean and precise color control and high quality print fidelity," he adds.
"This new press is a game changer for our company and our customers, as it provides an innovative, competitive edge to meet the industry's growing premium label demands," concludes Stone.
This email address is being protected from spambots. You need JavaScript enabled to view it.