Published: April 03, 2014
SLAGELSE, DENMARK | Nilpeter A/S reports that only three months after the contract signing at LabelExpo in Brussels, and just 10 months after their first MO-4 installation, Italian converter Nuceria Adesivi installs its second MO-4, which is in full operation at its Milanese plant. The new 11-color MO-4 combination press is equipped with flexographic and offset units, screen, hot and cold foil, embossing, and reverse-side printing.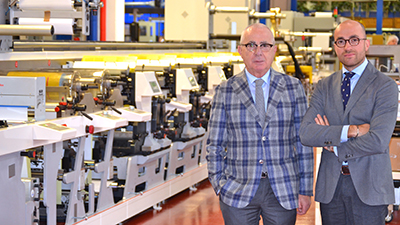 Guido Iannone, general manager of Nuceria, explains the decision behind their investment, "The results obtained with the first MO-4 have convinced us that it would be wise to reinvest in a 'twin' to gain total flexibility.
"The first press has delivered great results thanks to the LEAN philosophy that has characterized our approach from the get-go", Iannone continues, "The complete digitalization of the PMC ensures simplification and reduction of the setup time, which is a real challenge for any printer. With this second MO-4, we can target an average setup time of only 15 minutes. This leap in production efficiency makes us highly competitive in our market."
Nuceria's new investment targets highly value-added labels for the beverage sector.
This email address is being protected from spambots. You need JavaScript enabled to view it.