Published: December 09, 2013
SCHAUMBURG, IL | INX International Ink Co. officials broke ground December 5 on a new 62,000-sq-ft facility in Lebanon, OH. Local dignitaries were joined by the INX management team led by president and CEO Rick Clendenning at the site about 30 miles northeast of Cincinnati. When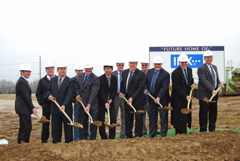 completed in late 2014, the building will serve as a manufacturing center primarily for solvent ink packaging products and will also produce three-piece metal decorating, UV/EB, and some water-based flexographic ink products.
"INX has a long history in the Cincinnati area," said Clendenning, "and with demand for our solvent ink packaging line resulting in significant growth, we needed to make sure our manufacturing capacity kept ahead of that growth. This new facility gives us all the modern amenities we need and flexibility to expand in the future. The City of Lebanon and all of their various departments…have worked extremely hard for us to make this project move forward."

Located in the Lebanon Commerce Center business park on Homan Road, the new building will be constructed on 11 acres not far from Interstate 71. John Hrdlick, INX chief operating officer, said that besides the greater manufacturing space, the new complex will contain a full-service lab for color management and development, quality control and testing purposes, and accommodations for employee training and customer meetings.
"INX is currently producing 37 million pounds of solvent ink for packaging, and we project production to be at 42 million pounds in the next couple of years," adds Hrdlick. "Our capacity for this product line will increase to 77 million pounds. We will transfer our current work force in Blue Ash and add jobs in Lebanon, so we will have 33 employees when the new building opens. We anticipate adding more employees in stages over the next five years, and if demand continues to rise, we have the capability to expand our plant up to 90,000 square feet in the future."
This email address is being protected from spambots. You need JavaScript enabled to view it.