Published: September 18, 2013
NEENAH, WI | REM announces the Model 4040 simplex two-drum surface slitter/rewinder. Designed to convert paper, board, or nonwoven webs to 120 in. wide, model includes as standard shear slitting with easy knife access, dual spreader roll system to assure slit separation, programmed rider roll, and barrier-type unloading bucket for lowering slit rolls to the floor.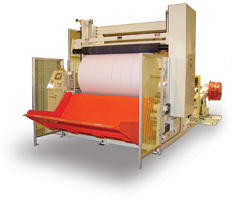 Additional standard features include separate AC Vector drives to provide differential draw between each winding drum; a shaftless unwind with dual pneumatic brakes; motorized chucking to accommodate various unwind core lengths; and unwind roll pickup from floor.
he 4040 processes webs at speeds to 2,000 fpm and tension ranges to 10 PLI with rewind diameters between 24 and 50 in. Score slitting is one of many options.
This email address is being protected from spambots. You need JavaScript enabled to view it.