Published: August 27, 2013
BRYAH, OH | The Provident Group, a wholly owned subsidiary of Anderson & Vreeland, reports the acquisition of Custom Flex, Appleton, WI, a manufacturer and distributor of doctor blades, end seals, and solutions for the printing industry.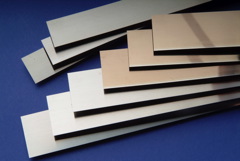 "Custom Flex's technical expertise and patented innovation in the doctor blade and end seal field is a natural fit for The Provident Group and allows us to better serve customers throughout North America," says Drew Elisius, VP of Operations for Anderson & Vreeland. "Our customers will benefit from the cumulative knowledge and industry innovation created by Custom Flex and The Provident Group."
Custom Flex offers a comprehensive selection of premium-quality doctor blades and is the exclusive master distributor partner of Prime Blade, the premium Swedish doctor blade manufacturer, throughout the US and Canada. The company also offers a broad selection of end seals said to deliver long-lasting performance by using superior materials and AquaShear, a precision machining process said to create a superior seal.
The Provident Group will utilize Custom Flex's Appleton manufacturing and sales warehouse in addition to its manufacturing and sales/warehouse facility in Englewood, CO.
This email address is being protected from spambots. You need JavaScript enabled to view it.