Published: July 16, 2013
CHARLOTTE, NC | Global anilox roll supplier Harper Corp. of America announces that the 2013 SMART Roadshow hosted by Nilpeter, Cincinnati, OH, on June 6, was a success. The next destination on the Roadshow's tour will be in Philadelphia, PA, July 25, 2013, hosted by Gallus.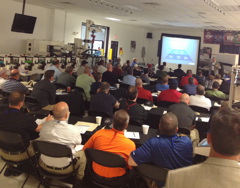 In following with this year's theme (Showcasing Modern Anilox Roll Technology), topics to be covered at Gallus include: FTA membership, FIRST certification, doctor blade technology, inks, press profiling, new plate technology, ink formulation optimization, the new HEX division of Harper, and the Gallus ECS 340 and Heidelberg Linoprint L press.
The 2013 SMART Roadshow is a free event open to members of the flexographic field. Company says print managers and supervisors, prepress managers, graphic designers, suppliers, operators, purchasing managers, and general managers, in particular, will benefit from attending. Contact company or register online.
This email address is being protected from spambots. You need JavaScript enabled to view it.