Published: April 30, 2013
BURLINGTON, MA | A total of 2,820 converting professionals from 45 states and 44 countries filled the aisles at ICE USA 2013 in Orlando, FL, April 9–11, to see the latest equipment and technologies on display from 345 exhibiting companies, reports organizer Mack Brooks.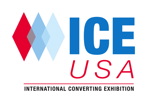 These results represented an increase of 16% more attendees and 40% more exhibitors over the inaugural 2011 event. Some 120 first-time exhibitors joined this year and the returning exhibiting companies took larger space to showcase more running equipment.
Significant growth also occurred in the conference program where more than 500 converting professionals attended the pre-show seminars presented by five industry-leading organizations and the ICE USA Conference sponsored by AIMCAL. Three keynote presentations were also well attended.
"We are very pleased with the growth of ICE USA," says show director Bob Chiricosta, "and we are even more excited about the quality of the attendees." Chiricosta says many of the exhibitors told him how pleased they were with the decision-making level of the attendees and both the number and quality of the sales leads. Several exhibitors sold equipment on the show floor.
John A. Ferreira, VP of Comexi North America highlighted a focus for Comexi at ICE USA. "We are really excited about the new training center we are establishing in Spain, and ICE USA serves as a great avenue to promote the center." He adds that ICE USA is also a good barometer for his business, "We've had really great visits at the show and discovered some projects that we were not aware of prior to the event."
These sentiments were echoed by Chris Maxam, global marketing administrator at Davis-Standard. "We were very pleased with the show this year and especially impressed by the high quality of the visitors. We've had a lot of good discussions about our new extrusion coating line dsX flex-pack."
Robert Deitrick, sales director Asia & Americas at Nordson Extrusion Dies Industries, says, "It's important for us to be at ICE because half or our customers are here—end-users and processors—and the other half are machine builders. Typically people that are coming here have an active project and it is very valuable to meet them face to face. It's an important show for us."
ICE USA organizers also report they will once again be exhibiting at INFO*FLEX 2013, produced by the Flexographic Technical Assn. and scheduled for April 29–30 at the San Diego Convention Center. ICE is the Elite Golf Tournament Sponsor of the J.P. Buckley Golf Tournament for the fourth year in a row. The tournament will be held on Saturday, April 27th at the Coronado Municipal Golf Course.
This email address is being protected from spambots. You need JavaScript enabled to view it. (visitors)
This email address is being protected from spambots. You need JavaScript enabled to view it. (exhibitors)