Published: April 05, 2013
CHARLOTTE, NC | Two young people were honored with first place at this year's Phoenix Challenge High School Flexo Competition. Both Andrew Mandeville and Alex Yelton attend Enka High School, Chandler, NC.
The pair won the first place award by earning the highest combined scores in the two-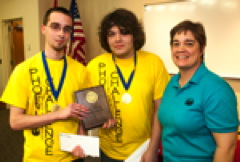 and-a-half-day competition, which included five areas of testing: (1) operating a flexo press, (2) prepress, (3) platemaking, (4) written knowledge, and (5) flexo math skills. Along with the first place honor, each member of the team will receive a $1,000 Phoenix Challenge Foundation Scholarship, and they will take home the Harper Flexo High School of the Year trophy cup, for display at the school.
Other top performing students excelled in all aspects of the competition. Second place went to Patrick Wilson and Andrew Fox of Asheville High School, Asheville, NC. Third place went to Jada Martin and Vincent Frank from Fairfield Career & Technology Center, Winnsboro, SC.
The program which began in 1998, is designed to promote the growth of the flexographic printing process in the educational system throughout North America.
Chairperson Bettylyn Krafft says, "The rivalry gets more challenging every year as the best high school students in the United States and Canada showcase their flexo skills. This year was exciting with teams from the Carolinas really heating things up."