Published: March 28, 2013
CAMBRIDGE, UK | Inca Digital Printers announces the launch of Inca ReporterPro, said to be a user-friendly analytics application designed to give managers a clearer understanding on the productivity and efficiency of their Inca Onset and Spyder wide-format printers.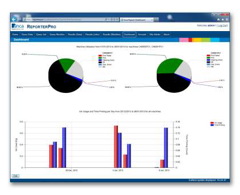 The ReporterPro gives production managers the ability to monitor their Inca flat-bed printers and access a wide range of production statistics from a web browser-based interface. The software provides a detailed overview across a range of metrics and can generate a variety of internal management reports, reportedly allowing managers better insight to fine-tune production schedules and increase efficiencies.
The unit provides job, customer, and machine production data, either dynamically or at preset intervals through a user-friendly "Dashboard." System can deliver specific data such as individual machine uptime, productivity, and quantity of ink used per job. Users can easily generate production reports for a single machine focusing on a specific time frame, or they can examine data relating to jobs for a single customer that are printed on a number of different Inca devices.
This email address is being protected from spambots. You need JavaScript enabled to view it.