Published: January 18, 2013
LECCO, ITALY | OMET Srl reports its subsidiary company, OMET Suzhou Mechanical Co. Ltd., which was founded in 2007 for the sale of both printing presses and tissue converting machines in the territory of China, now has its own Printing Technology Center with presses on display.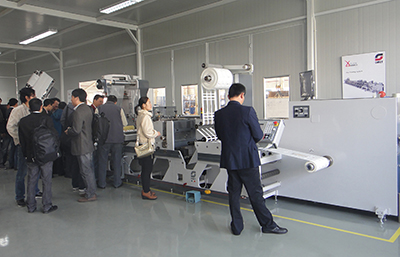 The Technology Center and Showroom is strategic to the development of the relationship with customers and offers the possibility to show the machines at work by giving the clients an intuitive (and active) grasp of the equipment potential. OMET Suzhou Technology Centre employs two full time skilled engineers that were trained in Italy.
The center is about 200 sq m and presently has on display one XFlex X2 370, which has been sold to Yanfeng Plastic Packing Co. Ltd., China. One XFlex X4 370-mm with 12 colors, two screen, two cold foil, and two rewinders is on its way to China and is scheduled to arrive within February 2013.
OMET Suzhou is perfectly integrated in the Chinese printing market and with great possibilities of expansion. The China printing industry, which held a 9.16% of the global output in 2011, develops rapidly as a whole with the packaging and decoration sector holding the largest proportion—up to 33.3%—and the best growth rate.
In November 2012, an Open House was held with more than 50 representatives from 25 companies including present and potential customers. A new Open House will be organized as soon as possible with the arrival of the new press to China.
This email address is being protected from spambots. You need JavaScript enabled to view it.