Published: December 12, 2012
GREENVILLE, WI | Badger Plug offers spool kits said to contain all components for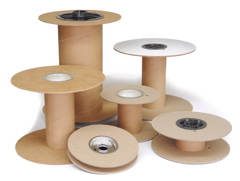 assembling spools on site fast, easy, and economically. Kit components can include all customer-specified spool plugs, spool cores, and spool ends.
Spool ends are manufactured from high quality chipboard, hardboard, cardboard, plywood, particleboard, and plastic. Plastic or metal self-locking spool plugs secure spool ends to the core and are available for light- to heavy-duty applications. Spool plugs range in size from 1–12 in. Spool ends come in a wide range of shapes and sizes and are precision cut to the customer specifications with clean, smooth surfaces.
Common custom configurations including bolt holes, hand holes, barrel grooves, and slots, with other custom configurations available. Assembled spools are also available.
This email address is being protected from spambots. You need JavaScript enabled to view it.