Published: December 12, 2012
BURLINGTON, MA | ICE USA, organized by Mack Brooks, reports five leading industry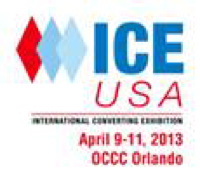 experts will be available for private consulting sessions during the 2013 Show in Orlando, April 9–11. Representing critical segments of the converting marketplace, these industry authorities will be available free of charge to help attendees find solutions to their specific technical and operational challenges.
Following are the five experts and their areas of expertise:
• Dr. Edwin D. Cohen – Web Coating: A technical consultant in all aspects of the web coating process, Dr. Cohen is Technical Consultant for AIMCAL and president of the International Society of Coating Science and Technology. He has a Bachelor of Science in Chemical Engineering from Tufts University and a PhD. in Physical Chemistry from the University of Delaware.
• Kelly Robinson – Static: Robinson founded Electrostatic Answers, an engineering consulting company dedicated to eliminating injury and waste from static electricity. With more than 25 years of industrial problem solving experience, Kelly has a PhD in electrical engineering from Colorado State University, holds several patents, and is a contributing editor to Paper, Film & Foil Converter.
• Dr. Dave Roisum – Web Handling & Converting: Dr. Roisum, a well-known web handling and converting authority, has authored seven books, including Winding, Rollers and Web Handling and has co-authored or edited several others. He is a principal of Finishing Technologies, providing consulting services to more than 300 clients who convert or manufacture paper, film, foil, nonwovens, textiles, and many other materials.
• Dave Rumson – Slitting & Rewinding: This slitting educator/consultant has 17 years slitting and winding experience with Dienes Corp. and Parkinson Technologies. He has presented for CEMA, AIMCAL and TAPPI for over 20 years and has conducted numerous nationwide public and corporate shear, crush, and razor-slitting seminars.
• Vincent DiTrolio – Flexographic Printing: Founder and CEO of DiTrolio Flexographic Institute, DiTrolio is a highly regarded flexo industry expert and pioneer in formal press operator training. Vince has worked in the flexographic printing industry for more than 20 years, and his organization has trained hundreds of press operators.
Show attendees can schedule a 15-minute, one-on-one consultation with any of these industry experts in advance, as well as making appointments onsite, based on availability.
"The Ask The Experts sessions were one of the most popular features of the 2011 show," says ICE USA show director Bob Chiricosta. "We had several attendees tell us that they discovered very valuable solutions to their challenges during these sessions."
This email address is being protected from spambots. You need JavaScript enabled to view it.