Published: December 11, 2012
SYLVANIA, OH | Innovative Handling offers a variety of robotic roll handling solutions,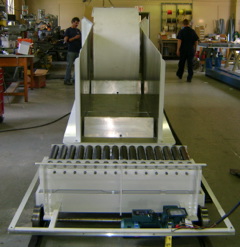 including high-speed FANUC robots. Many of the solutions include roll sorting of narrow slits and roll palletizing in a variety of stacking patterns. Applications include handling the roll by the ID or OD along with handling rolls that tend to telescope.
Company reports a new product is suited for applications in which contact of the roll is not desired. This new servo-driven stripping system removes rolls from the rewind shafts via a stripping mechanism that contacts only the cores. This product is said to be ideal for the increased amount of new rolled products that cannot be touched during the manufacturing process.
This email address is being protected from spambots. You need JavaScript enabled to view it.