Published: December 07, 2012
ROCKFORD, IL | Martin Automatic recently keynoted an educational conference in Dubai for narrow web label and flexible package printers and converters. The conference, entitled "Reduce Waste and Improve Productivity," was cosponsored by XOL Automation, a diversified engineering company serving the Middle East and North Africa region.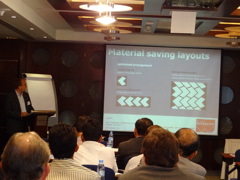 Martin Automatic's keynote address focused on process automation and how running faster, smarter, and better provides the opportunity to increase profits and sustainability. In addition to presentations by Martin, attendees heard experts from Berhalter, on new opportunities with precision, flatbed die-cutting solutions for lidding applications; Pantec, on efficient, high quality premium label production with hot and cold foil stamping and the benefits of foil saving; and Gidue, introducing the latest advance in combined analog and digital printing methods for the label printer seeking to add multi-substrate capabilities.
"The attendees at the Dubai conference were very receptive to learning the latest advances in process models and efficiencies along with being introduced to new technologies for value-added operations that could open yet undiscovered opportunities to provide new products and services. We were pleased to co-sponsor this educational event and will continue to look for ways to work with the XOL engineering team to connect with the OEMs and end-users in the MENA region," reports Gavin Rittmeyer, VP of sales/marketing at Martin.
In other news from Martin, the company reports it continues to support the Indian label market by exhibiting at the recent Labelexpo India. The company had its own booth, displaying one of its newest compact butt splicers, and also participated at the Technology Bar, sponsored by Weldon Celloplast.
Visitors to the Martin booth saw the MBSC automatic butt splicer courtesy of Webtech, New Delhi, its second Martin MBSC butt splicer for label stock and mono-film.
"We see the beginning of new ideas regarding label production in this region," says Rittmeyer. "Where once the measure of success was based on the number of presses in a factory, now leading printers are choosing a streamlined production model that focuses on efficiencies to increase production and reduce waste. Leading consumer product companies are demanding these efficiency increases as they focus on sustainability initiatives across the globe. We are passionate about helping printers understand this message and the urgency of modernizing their presses through automation."
This email address is being protected from spambots. You need JavaScript enabled to view it.