Published: August 03, 2012
CAMBRIDGE, UK | Xaar has added two new greyscale printheads to the wide-swathe (53.-mm) Proton inkjet family. The Proton 15 and Xaar Proton 15+ both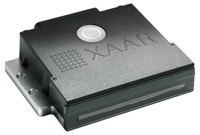 deliver 15 picolitre drops at high speeds and are said to provide high print quality, productivity, and value.
New printheads, which join the binary Proton 35 and Proton 60, are called ideal for high quality indoor and outdoor graphics. The expanded Proton family allows printer manufacturers to deliver a wider product range with the best combination of throughput and print quality while minimizing the cost of printer development.
The Proton 15 incorporates the company's latest technology. Individually lasered nozzles, optimized ink drop speeds, and company's latest 'chevron' actuator design, combine to give efficient and consistent drop formation resulting in outstanding print quality.
The robust design of the Xaar Proton 15, with lockable ink and electrical connections, is said to ensure easy and secure installation. In addition, the integration of intelligent on-board electronics reduces development costs and time-to-market for printer developers.
This email address is being protected from spambots. You need JavaScript enabled to view it.