Published: June 06, 2012
DÜSSELDORF, GERMANY | The recent drupa 2012 print media trade fair was a great success and a predictor of a positive future for print, reports show organizer Messe Düsseldorf.
Dominating themes at the event included automation, packaging printing,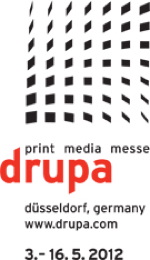 digital printing, hybrid technologies, web-to-print applications, and environmentally sound. Positive indicators included the conclusion of numerous deals at the two-week event, which welcomed 314,500 attendees from more than 130 countries and 1,850 exhibitors. Visitors came with specific investment intentions, and almost 50% of them place specific orders—and most of these at the show site, according to the visitor survey. The proportion of attendees with top management titles has grown since 2008: 50.8% at drupa 2012 compared to 44.4% at drupa 2008. Although attendance was down from 2008, those who came were top managers, i.e., decision-makers, rather than the large delegations of the past, says Werner Matthias Dornscheidt, president and CEO of Messe Düsseldorf. "This [attendance] decrease does not come as a surprise for us and the sector as a whole. In Germany alone the printing industry lost some 3,900 companies with over 61,000 employees between 2000 and 2011. During the same time, more than 7,700 printing operations closed in the US.
According to Bernhard Schreier, president of drupa 2012 and chairman of the board at Heidelberger Druckmaschinen, "drupa was a resounding success for the sector. Numerous business ideas and innovations were showcased here that all led to high investment. What the exhibitors presented…will strengthen the development potential of the print and media industry long term. …business was done and points were set for the future of the sector."
Following are some statements from drupa statements:
Jeff Stoffels, director corporate marketing, Esko: "Esko had a great drupa. Not only did we surpass our targets for sales and leads but also received confirmation that our long-term strategy for integrated end-to-end solutions integrating with other business systems is the right one…."
Aviv Ratzman, CEO of Highcon: "drupa was an excellent platform for launching the Highcon Euclid, the Direct-to-Pack concept, and the company's many partnerships. Heavy stand traffic and a standing-room-only press conference demonstrated that drupa is still the place to be. We reached agreements with key distribution channels, gained leads from all over the world, and secured a considerable amount of business, exceeding our best estimates and expectations.…"
Izabela Batko, sales and marketing, Toray: "For Toray, drupa 2012 has been the best show ever with the highest attendance at Toray booth to date. The number of leads have more than doubled compared to those generated at previous drupa exhibitions, with serious customer prospects asking for technical support to convert to waterless has been higher than previous exhibitions."
In summary, Messe Düsseldorf says the most important signal from the 2012 show. Print has potential and the sector is investing heavily in its future. The next staging of drupa will be June 2–15, 2016, in Dusseldorf.
This email address is being protected from spambots. You need JavaScript enabled to view it.