Published: March 06, 2012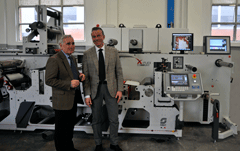 LECCO, ITALY | OMET reports the completion of the installation of a ten-color XFlex X6 at ETITEC, Milan, Italy, part of IMPRIMA Group. ETITEC is a label manufacturer working with a wide variety of adhesive substrates. The company recently expressed the intention to widen its product portfolio to include shrink sleeves. ETITEC chose an XFlex X6 after evaluating different offers, knowing it would comply with its special requirements.
The configuration—designed by Leo Ingrosso, chief executive of ETITEC, and Enrico Gandolfi, OMET sales manager for Italy—and the inner flexibility of XFlex X6 allow the printer to satisfy any request coming from different sectors including the shrink sleeve market. This 430-mm, ten-color XFlex X6 combines in-line a few additional capabilities—cold foil, delam/relam, print on reverse, and booklet—that make it competitive in the printing of short and medium runs of difficult jobs on different materials.
"I've known OMET a long time," affirms Leo Ingrosso "and I have always judged it a serious and modern company with a special dedication to innovation. The press recently installed is confirming my thoughts."