Published: February 09, 2012
 BEDFORD, UK | Atlas Converting Equipment reports a year of success since the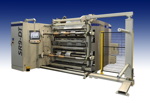 Management Buy-Out from Bobst Group in late October 2010. A new corporate entity was established in Charlotte, NC, to service customers in North and Central America and Mexico. Later in the year, Atlas incorporated a subsidiary in Shanghai, China, and another in Mumbai, India.
"[We] appointed additional regional sales managers last year to cover several strategically important markets," says Alan Johnson, managing director of Atlas Converting Equipment. "Additional service engineers were also added in 2011, and the company will launch a platform of new service products during the coming year. Agreements were signed appointing several new agents last year to represent the company in various geographical regions worldwide and to provide support in both sales and service activities." Johnson adds that, due to a strong order backlog, the company will increase manufacturing capability in Bedford.
Atlas was present at various conferences and exhibitions, including Arabplast in Dubai, Interplastica in Moscow, ICE USA in Florida, where a Titan ER610 compact slitter was demonstrated (and sold), Chinaplas in Guangzhou, China, and ICE Europe in Munich, Germany, where the first model in the next-generation Titan SR9 Series slitter/rewinders was officially launched. Atlas will also be present at drupa 2012 in Düsseldorf, Germany, in May.