Published: March 01, 2009, By By Claudia Hine, Managing Editor
UV-Curable PSA Has Low VOC
GELVA multipolymer radiation (GMR) 8020-02 UV-curable PSA offers excellent adhesive characteristics to both low-energy and high-energy surfaces. Low VOC formulation is said to enable tape manufacturers to compete in markets in which solvent-based PSA products are not practical.
Static Eliminator Neutralizes Wide Surfaces
The 48-in. Super Ion Air Knife neutralizes static electricity while blowing away dust and particulates from printed surfaces, paper, plastic, and 3D shapes. Unit is said to be effective at high speeds and to provide superior cleaning up to 20 ft away. Uses only 8.7 SCFM of compressed air at 5 PSIG to entrain high volumes of surrounding room air.
Label Film Enhances Product Security
Clarifoil Integuard tamper-evident film is available in 6,500-ft rolls with an O.D. up to 19 in. Acetate film was developed for labels and seals that require enhanced product security. Offers a relatively high tensile strength compared to its tear strength. Film is certified compostable and conforms to Sustainable Forest Initiative and Japanese Greepla standards.
Slitter/Rewinder Is Updated
VSR line of slitter/rewinders has undergone upgrades including a powerful Rockwell Automation control system that features a menu-driven, full-color, touchscreen operator interface terminal, resulting in reduced operator training requirements. "Servo mode" main drive and rewind tension inside the control system reportedly make perfect web control attainable. Remote diagnostics enable instant service and support.
Spray Systems Need No Contact
Spray systems apply water, chemical solutions, or powder onto webs in a "contactless" manner. For liquids, the system employs a series of spinning cups that spray drops onto the web surface. Spray format can be tailored to a specific web width. For powder, system employs a dosing module that meters powder in the range of 20-60 microns through a series of individual spray nozzles.
Durable Substrates Are Sustainable
Ultra Film offset and screen printable film line includes Low-Peel/Repositionable Vinyl, Window Cling Vinyl, Styrene, Ultra Synthetic Paper, Ultra Green Film Tree-Free Paper, Rigid Vinyl, and new Ultra Green 100% Tree-Free Film, which is composed of inorganic stone and made entirely without the use of water, bleach, or toxic chemicals. Swatchbook includes printed samples with comprehensive product description, including advantages, limitations, and applications.
Antimicrobial Is Highly Effective
Innovative antimicrobial differs from other additives of this type in forming permanent covalent bonds with the polymers in plastics. Tiny loadings of additive, ranging from 0.1%-1.0%, reportedly are sufficient to keep product surfaces clean and protected from damaging microorganisms.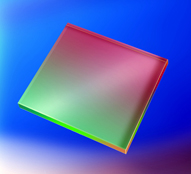 Conductive Coatings Are Filter Compatible
A line of transparent conductive coatings for use in the visible and near-infrared spectral ranges is compatible with company's dichroic filter technology, enabled by the patented Microdyn sputtering process. This technology is said to yield high performance, highly uniform, transparent conductive filters that remain extremely stable while withstanding high thermal loads and changes in humidity. Can be applied to a variety of substrates.
Adhesion Test Reduces Variations
ReliaPull Adhesion Test Equipment mechanizes tape tests to reduce the human variation imposed on results of tests performed manually. No matter who pulls the lever, the method is repeated exactly the same way each time.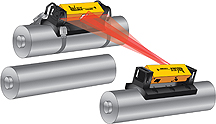 Align Rolls Accurately
SX-5100 RollCheck offers accurate, visual alignment of rolls. Uses proven reflected laser beam technology to reduce downtime and product waste. Lightweight, compact design fits into small spaces. One-person operation requires no training.
Register To Vote
Visit www.pffc-online.com and register to receive E-Clips, PFFC's twice-monthly e-mail newsletter. It's FREE!
Also sign up to receive our E-Xpress Special Edition newsletter filled with product and service offerings from our advertisers.