Published: January 30, 2015
REDCAR, UK | NeuDrive Limited has completed the acquisition of a portfolio of organic semiconducting material patents and the FlexOS trademark from CPI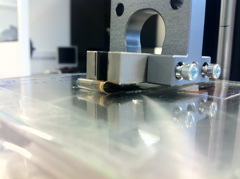 Innovation Services (CPIIS), the commercial arm of the Centre for Process Innovation (CPI). In a series of related transactions, NeuDrive has also negotiated patent and know-how licenses relating to organic thin-film transistor technology developed by CPIIS and secured a significant additional investment from its founding shareholders.
The FlexOS technology platform reportedly enables the manufacture of high-performance, ultra-thin, high-definition display screens on flexible plastic substrates, particularly suitable for portable devices such as smart phones and tablets and the emerging market for wearable devices.
NeuDrive has committed to the further development and refinement of the FlexOS platform so that it will play a leading role in the development of sensors, biosensors, and diagnostic devices. It is anticipated that these devices will play an important part in the development of the Pharmaceutical and Life Sciences industries as there now exists a capable interface between traditional electronics and organic materials.
This email address is being protected from spambots. You need JavaScript enabled to view it.
This email address is being protected from spambots. You need JavaScript enabled to view it.