Published: January 15, 2015
BOULOGNE-BILLANCOURT, FRANCE | Arjowiggins Creative Papers has developed "Alive"—interactive versions of its fine paper ranges created by combining them with company's PowerCoat paper for printed electronics.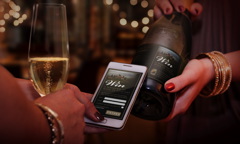 Versions include Conqueror Alive, Curious Alive, Pop'Set Alive, and Rives Alive. All are enabled for up-to-the-minute interactivity, helping creatives to help brands engage with their customers.
Company says product combines the creative power of paper and the connective power of digital, enabling instant connections from printed communications to social media. communicating in different languages without cluttering branded graphics, or reassuring customers that valuable products are the real thing and not a cheap copy.
Cost-effective paper-based printed circuitry can be used to reveal instructions or ingredients in an unlimited range of languages, take customers to a dedicated website, or online promotion, personalize a product, or facilitate instant sharing via any of the social media channels. All it takes is a quick scan with an NFC-enabled mobile device.
Not visible on the packaging surface, the recyclable and biodegradable intelligent paper laminate places in the hands of the consumer a hidden weapon to combat counterfeiting—a scan with a mobile will reveal if it is real. Products also offer an additional level of security as delamination is virtually impossible, says company. This ensures that information cannot be taken from one product and reused on another or eliminated altogether.
PowerCoat has a cellulosic formulation and patented coating process said to be environmentally sound. It is FSC certified, biodegradable, and 100% recyclable. And like ordinary paper, it can be folded, cut, shaped, torn, and even burned to create a desired effect or memorable interaction.
This email address is being protected from spambots. You need JavaScript enabled to view it.