Published: November 11, 2014
ADDISON, IL | Rollprint Packaging Products announces the addition of a second high-barrier structure to its Exponent film family. Exponent 2 features a combination of company's ClearFoil and a coextruded, non-crystalline polyester sealant. (Company says the non-crystalline attributes enhance sealing properties.)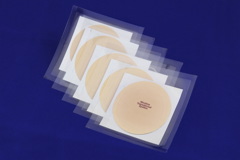 The material targets pharmaceutical and other chemically sensitive applications that require exceptional barrier and clarity. Pre-made or inline pouching, lidding, and flow wrap applications are expected to be the first commercialized package types.
Reportedly, the structure's reduced number of layers and gauge offer cost-savings and create an improved environmental profile for a wide variety of pharmaceutical products, and high-barrier and clarity properties make it a suitable replacement for glass vials.
Exponent 2 has been engineered to provide a chemically neutral, ultra-high oxygen and water vapor barrier with chemical resistance. Oxygen barrier levels are available as low as 0.0008 cc/100in2-24 hrs and water vapor barrier properties are available down to 0.0008 g/100in2-24 hrs.
The transdermal patch, e-cigarette, and diagnostics markets are the first application opportunities company expects for this technology, which is also called an excellent candidate for single-dose delivery systems and cosmetic applications because of its high surface-to-volume ratio and unique barrier properties. Company also says the film is well suited for the emerging flexible packaging for wine and spirits segment because of its outstanding organoleptic characteristics.
This email address is being protected from spambots. You need JavaScript enabled to view it.