Published: June 20, 2014
SUPERIOR, WI | Charter NEX Films, a manufacturer of coextruded, barrier, and monolayer blown films for a wide variety of high-performance packaging applications, has received two awards from NASA as part of the 2013 NASA Agency Honor Awards.
The Group Achievement Award was given in recognition for involvement with the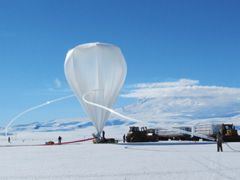 2012/2013 Antarctic Long Duration Balloon Campaign for NASA's Balloon Program. Charter NEX Films was named as part of the team in this successful campaign. Recipients of this award include personnel from NASA, the Columbia Scientific Balloon Facility, Aerostar, and Charter NEX Films.
The Silver Achievement Medal was given to Charter NEX Films in recognition of the production of exceptional quality balloon film for the NASA Balloon Program.
"The Silver Achievement Medal award is very special," says Henry Cathey Jr., engineer with New Mexico State Universities, Physical Science Laboratory. "In some ways it crosses over with the successful 2012/2013 Antarctic campaign, but it is a targeted award specifically for Charter NEX Films. It is singular recognition of the quality of [the company's] product and the dedication of [the] staff. Only a very select group of Silver Achievement Medals are presented each year from the many applicants. I think these awards speak for themselves on the importance of Charter NEX towards the NASA Balloon Programs success."
Charter NEX president and COO Chris Trapp says, "We are proud to be recognized by NASA for our achievements working together to make their High Altitude Weather Balloon projects such a success. The employees of Charter NEX are the best in the industry and deserve this prestigious award which highlights our commitment to quality and customer service."
NASA's Columbia Scientific Balloon Facility (CSBF) uses Charter NEX film for Super Pressure Balloons and Zero Pressure Balloons.
This email address is being protected from spambots. You need JavaScript enabled to view it.