Published: June 12, 2014
STRASSEN, LUXEMBOURG | Jindal Films introduced three new films at the recent interpack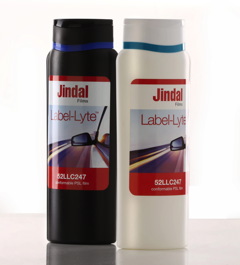 show. Films are for packaging and labeling use and reportedly can help customers improve performance and meet sustainability challenges.
• Label-Lyte 52LLC247 film is a new white lightweight oriented PO film said to offer excellent converting characteristics, conformability, and flexibility for p-s label
applications. Reportedly, the conformability and squeezability of the film allow the label to remain intact and appear new even after multiple squeezes of the container. Company also says the printable surface enables point-of-sale impact to be enhanced for a wide range of products including health and beauty care, household products, beverages, and canistered or bottled food.
• Bicor 50 SuP 490 OPP-based sealant film for stand-up pouch applications is said to offer excellent stiffness for stand-up display, high transparency for optimum visibility, and outstanding moisture barrier, while providing opportunities for downgauging compared to blown LLDPE or CPP alternatives.
• Metallyte MM688 OPP film is a metallized, surface-printable monoweb solution with a broad seal range and operating window for high-speed horizontal f/f/s packaging. Company says the film, with a very low temperature seal coating, can replace lamination while maintaining moisture, flavor, and aroma barriers to keep products tasting and smelling fresh.