Published: December 01, 2009, By By Yolanda Simonsis, Associate Publisher/Editor
Plant capacity utilization in 2008 was lowest in the Tapes, Labels & Tags segment, with median figures at 66% (almost 20% of these respondents had 50% or less plant utilization, reflecting significant machinery idle time), while the remaining three segments averaged 76%. The Unprinted Rolls & Sheets sector appeared to have the greatest business activity in terms of uptime with 40% reporting between 71%-80% plant capacity utilization and another 12% reporting 81%-90% utilization with yet another 10% operating at over 91%.
Business backlog, not surprisingly, decreased for the majority of respondents in the last half of 2008. Almost a full three-quarters of those in Tapes, Labels & Tags were most likely to see a decrease, while only a little more than half (55%) of those in Flexible Packaging saw a decrease. In fact, almost a quarter of Flexible Packaging respondents saw an increase or no change, reflecting a more stable environment for this sector.
The impact of imported converted products on sales revenue varies by segment, with Tapes, Labels & Tags least likely to report a negative impact (27%), confirming a belief that, for the most part, labels are purchased on a more local or regional basis. Respondents in Unprinted Rolls & Sheets were nearly evenly divided at 48% reporting no impact and 52% feeling a negative impact by imported products. Approximately 42% of respondents in Flexible Packaging and 43% in Paperboard Packaging reported a negative impact.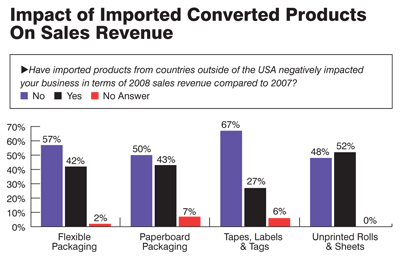 Brought to you by Fife's TruWide Ultrasonic Sensor