Published: July 01, 2008, By By Deborah Donberg, Assoc. Managing Editor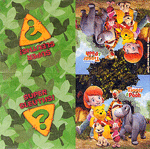 The Hilton Anatole in Dallas, TX, was the setting for the 2008 Foundation of Flexographic Technical Assn. (FFTA) Forum and INFO*FLEX exhibition, held April 27-29 and attracting nearly 1,600 attendees. The mood was celebratory, and it wasn't just the advancements in flexo and the success of INFO*FLEX, though both were cause for celebration. The forum theme tells the story: "FTA's Golden Anniversary: Fifty Years of Making Flexo Stronger."
FTA president Mark Cisternino welcomed attendees on Sunday with an association update. Chairman Dave Neiman announced that FIRST 4.0 will be available this month. It will be 50% larger, more user friendly, and updated to today's best practices, Neiman said, adding updates now will be offered online. FFTA's education director discussed the Technical Education Services Team, known as TEST. For more on TEST, see PFFC, June 2008, p24.
The keynote address was delivered by motivational speaker Jackie Pflug, who presented a riveting, moment-by-moment account of her terrifying experience as the victim of an airline hijacking in the '80s. Pflug was shot in the head during the ordeal and has since had to relearn language and deal with issues, including epilepsy and severe vision problems, as a result. Her message — expect success and commit to it, be grateful every day, and don't get hung up on small problems — won over the audience, which gave her a standing ovation.
Pflug's speech was followed by a two and a half-hour prepress session. Topics included computer-to-plate and plate processing, workflow, prepress curves and quality control, inkjet proofing, direct engraving, and more.
The Sunday night banquet included the induction of Howard Vreeland Jr. into the Hall of Fame and the Distinguished Educational Leadership Award for Ron and Katherine Harper. The main business of the evening (in addition to a delicious dinner) was the presentation of the Excellence in Flexography Awards (more to come).
The Monday morning sessions covered Newspapers, Business Management, Flexo 101, and Emerging Technologies. While the forum was infused with the nostalgia of the anniversary, attendees definitely were interested in looking ahead as well. One bit of evidence: The Emerging Technologies session had standing room only! During that session, Hewlett-Packard's Ed Dedman told the audience their customers want more SKUs, shapes, sizes, designs, colors, promotions, and bar codes. He proceeded to explain how digital printing can help with these demands. "How do you know if digital printing is for you?" Dedman asked. The answer: Consider such factors as what the package is designed to contain; the materials that will be used; the regulations to which the package will be subject; whether this is new packaging for the customer; and whether the customer is looking for new graphics.
Dedman said digital presses can duplicate the characteristics of another press and increase marketing opportunities. He summed up: "Digital printing can complement your flexo capacity, not compete with it."
Gail Wong of General Mills told the audience end-users want a cohesive look for their packages. She reminded them of the importance of shelf presence, pointing out that 70% of purchases are made at the shelf. Many brands don't have advertising money to spend, Wong noted, so the package has to do all the selling. Wong also said the low-quality stigma of house brands and private labels is decreasing, so known brands must be able to compete with them. CPGs need the ability for speed to market and must be assured the proof with their sign-off is what will appear on the shelf.
"What do we need from the flexo industry?" Wong asked. Her answer: reduced lead times, outstanding quality, good process control (she urged printers to optimize their presses and use FIRST), and communication. "Your offshore competition is doing all of this," Wong cautioned, "and doing it well." She applauded the flexo industry, saying it has come a long way in a relatively short time.
Other emerging technologies on the agenda included direct-write imaging technology; the impact of surface structure on flexo print properties; and 3D visualization.
A luncheon on Monday continued the celebration, with every attendee receiving a copy of the FTA's Golden Anniversary Commemorative Book filled with collectible photos and memories.
Adding Green to Gold
The primary color of the forum may have been 50th anniversary gold, but green was not neglected.
During a Tuesday morning session on sustainability, FTA's Doreen Monteleone explained the Sustainable Green Printing Partnership (SGP), established to create a credible system for identifying "green" printers. It was formed in 2007 as a collaboration among FTA, Printing Industries of America/Graphic Arts Technical Foundation, and Specialty Graphic Imaging Assn. (The National Assn. of Printing Ink Mfrs. and the Envelope Mfrs. Assn. are now members as well.) SGP covers not only environmental issues but human resources, labor laws, and more. The audit process will be conduced by a third-party verifier, much in the manner of ISO certification. Monteleone said the team putting together the program hopes to launch it this summer.
DuPont's Debbra Johnson, who provided a lifecycle analysis, said there is no turning back on sustainability, but there is also no silver bullet to make it happen. Flexo has a very light footprint, she added, but the substrates are a very large burden; thus, collaboration all along the supply chain is key.
The ink supplier's point of view came from Martin Spatz, Sun Chemical North American Packaging, who said the focus should be on a cradle-to-cradle cycle. Are the inks bio-based or petroleum-based? Are they derived from a renewable source? How are they transported? What about waste handling and reduction?
Other topics in this session included substrate sustainability, solvent recovery/recycling, and cube utilization. Tuesday also featured sessions on Newspapers; Faster, Better, Cheaper; and FIRST/FQC.
Once again the forum included the very popular INFO*FLEX exhibition, with 175 companies occupying 217 booths. Represented were a broad range of suppliers to the flexo industry, and attendance was brisk with no sessions scheduled for the hours the exhibit is open.
Excellence in Flexography Awards
FTA honored 73 companies with 147 prizes in the 2008 flexo printing competition.
The nine entries winning Best of Show in their respective categories are featured here.
Category | Napkins
Winner | Creative Converting
Entry | My Friends Tigger & Pooh napkin
Category | Folding Cartons
Winner | FTA South Africa on behalf of Golden Era Group
Entry | Kellogg's Croco Pops Jumbos carton
Category | Graphic Design
Winner | William Fox Munroe
Entry | Whoppers Sno-Balls 10 oz bag
Category | Wide Web
Winner | Coating Excellence Intl.
Entry | Malta Cleyton Triple Corona New Generation bag
Category | Combined Corrugated
Winner | Allpak Container
Entry | World Class Apples-Hand Selected Taste The Variety box
Category | Narrow Web
Winner | FTA South Africa on behalf of Roll On Labels
Entry | Nestle Hot Chocolate label
Category | Mid Web
Winner | Label Technology
Entry | Jergens Skincare tri-pack
Category | Preprinted Linerboard
Winner | SCI
Entry | Miller Lite Easy Chill 24-16 oz bottle case
Category | Envelopes
Winner | Encore Washington
Entry | Tesco Opening Soon envelope
Mark Your Calendar
The next FFTA forum will be held May 3-6, 2009, at Disney's Coronado Springs Resort, in Orlanda, FL. For more information visit www.flexography.org.