Published: February 09, 2017
ST. ALBANS, HERTA, UK | ICE USA has assembled a top-notch team of industry experts to help solve your converting challenges., reports organizers Mack Brooks. The show takes place April 25–27, 2017, in Orlando, FL.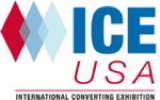 Whether the questions concern pressure-sensitive adhesives, flexo printing, web coating, slitting, or more, the Ask the Experts team is said to have it covered. Reserve a free one-on-one consultation with one of our experts at ICE USA at this link.
Register for free today for ICE USA using code GEN173.
This email address is being protected from spambots. You need JavaScript enabled to view it.