Published: July 20, 2016
CEO of WS Packaging Group Inc. says his purpose is to help people rediscover their courage and creativity.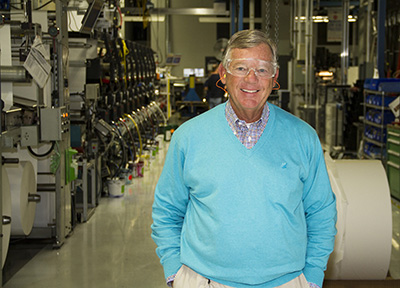 Charlie Eitel, CEO
WS Packaging Group Inc., Green Bay, WI, Headquarters
Founded October 2000 with the merger of Wisconsin Label Corp. and Superior Label Systems
Specialization: Pressure-Sensitive Labels
Website: www.wspackaging.com
How did you get into the converting business? J.W. Childs private equity firm owns the majority of WS Packaging Group. I am an operating partner with them. In March 2015, I was asked to take the CEO role at the company.
How would you describe your management style? I do my best to surround myself with strong people that have specific talents. That enables me to build a solid top-level team. My style is optimistic, trusting, and empowering.
What is your key to retaining good employees? Having a strong relationship with your employees is essential to every company's success. The WS CARES program represents our ongoing commitment to enhancing the lives of our employees through five core values:
Creative—We bring fresh thinking and original ideas
Accountable—We take responsibility
Respectful—We treat each other and our environment with respect and dignity
Effective—We set the right priorities
Supportive—We encourage and develop.
What is the key to growing a business in a bad economy? I believe strong customer relations, design/innovation leadership, and excellent service and quality are the solutions.
What is the biggest challenge/threat to the converting industry right now? We continue to see a consolidation of end-use customers leaving fewer and fewer potential clients to sell to. Additionally, new technologies, both in print and the digital world, are forcing printers to maintain a high level of innovation and be at the forefront of technology breakthroughs. Fortunately, WS Labs is geared to do exactly that. I am proud of the work we are doing to stay at the cutting edge of the marketplace.
To what associations does your company belong? We belong to various printing associations; however, our main industry trade organization is Tag and Label Manufacturers Institite (TLMI). A very good organization of print companies that also awarded us "Best of Show" honors for the 2015 TLMI Label Awards competition. We are also involved in various fund raising projects throughout the communities where we have associates.
How do you handle a difficult customer? We "show the love" and hang in there to solve their issue. But more importantly, we try to create an extraordinary customer experience up front.
What keeps you up at night with regard to your business? Price pressure. Stopping attrition.
What do you know now that you wish you had known when you started out in business? The power of creating an excellent work environment for all associates and the importance of keeping politics out of the workplace.
Are there any management or business books that have influenced you?
Good to Great by Jim Collins
Play to Win! by Larry Wilson
The One Minute Manager by Kenneth Blanchard and Spencer Johnson
The Power of Ethical Management by Kenneth Blanchard and Norman Vincent Peale
Taken on Trust by Terry Waite
What is the biggest mistake you made in business and how did you fix it? Introducing a product without complete research testing with every group associated with the product.
What do you enjoy most about your job? Leading and developing people and being with our customers.
What do you enjoy least about your job? Having to make tough decisions on people.
What was the best advice you ever got? Don't act like Santa Claus unless you are prepared to pull a sleigh.
What was the worst advice you ever got? Thomas H. Lee private equity convincing me to strip equity out of Simmons Bedding when I was CEO.
What advice would you give to someone starting out in this business? Don't grow too fast and keep a narrow focus.
What are you most proud of in your business? Our ethical behavior and focus on doing the right thing.
Do you have a personal hero? Larry Wilson (now deceased); he was a world-class exceptional leader.
Any hobbies? I love golf, tennis, snow skiing, art, and wine.
Do you have a personal motto? My purpose is to "Help people rediscover their courage and creativity."
What does your company do for your customers that makes them come back to enjoy the experience of doing business with you again? A great sales force and customer service group, along with tremendous expertise in helping maintain the quality of our clients brand presentation and taking it to new levels by leveraging the capability of our design staff and state-of-the-art presses.
What do you feel are the key qualities necessary to be a successful leader? Integrity, authenticity, caring, and supporting.
What, if any, sustainability efforts has your company made? We can source and print on certified recycled materials or alternative materials from renewable resources; provide the documentation on sustainable raw materials to meet "chain of custody" requirements or restriction of hazardous chemicals compliance; lean manufacturing initiatives that focus on improving production areas directly related to sustainability; pay to have over 800 tons of matrix waste, which was produced in the printing process, converted into fuel pellets each month; WebFlex, our online asset management system offers a paperless ordering process that includes electronic quoting, order acknowledgment, and invoicing; and recycling over 1,200 tons of paper, corrugated, and other materials per month.