Published: October 01, 2007, By Edited by Claudia Hine, Managing Editor
Security Packaging
Nelmar Security Packaging Systems is committed to protecting the money you earn. A manufacturer of a patented, tamper-evident system for the safe transfer of currency, checks, and other valuables, Nelmar provides security packaging to banks, retailers, and armored car companies under the trademark names Secur-Pak, Eurosafe, and Fraudstopper.
To maintain its standing as a leading manufacturer of tamper-evident packaging, Nelmar continuously upgrades its facility, equipment, and materials for maximum efficiency. In December 2006 the company moved its Quebec operations from Montreal to a newly constructed 150,000-sq-ft production facility in Terrebonne. The new facility not only houses Nelmar's existing bagmaking and printing equipment, it allows space for the addition of four blown film extrusion lines, enabling Nelmar to bring film production in house.
"It became apparent to us that in order to be the most cost-efficient producer of our products, we would need to have greater consistency in the films we were using, says Nelmar president Neil Freder. "Controlling the process [in-house] enables us to use and maintain the best resins without incurring change without notification."
In deciding on its film equipment supplier, Nelmar hired a consultant who showed the company almost every film machinery manufacturer. Ultimately, Nelmar found Windmoeller & Hoelscher's Varex to be the line best suited for its application in all categories.
Fast Return on Investment
"We decided on W&H due to many factors," explains Freder. "Homogeneity of the film produced with our recipe was one, and the maximum-output guarantees enable us to achieve the greatest return on our investment with this line. We expect to pay back the cost of this line in a year and a half."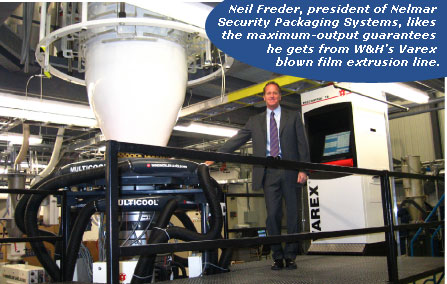 The three-layer Varex blown film extrusion line installed at Nelmar has a working width of 71 in. (1,800 mm) and features the Optifil P3 gauge profile control. The P3 is a combination of the Optifil P2 automatic die and Multicool D dual air ring system. The Varex line also is equipped with W&H's Filmatic S dual surface winder installed in a face-to-face configuration with reverse wind capability.
Nelmar reports this equipment is another step in its constant commitment to technological growth and will enable the company to serve its existing client base more efficiently and to continue valuable growth in the market.
---
CONVERTER INFO:
Nelmar Security Packaging Systems | 3100 des Batisseurs St., Terrebonne, QC J6Y 0A2, Canada | 450-477-0001 | nelmar.com
SUPPLIER INFO:
Windmoeller & Hoelscher Corp. | whcorp.com | PFFC-ASAP 316
---