Published: September 01, 2007, By By Edward Boyle, Contributing Editor
Prepress Workflow
The Meyers Printing Cos. may be a mature 58 years old, but the Minneapolis, MN-based converter of prime, security, and digital labels refuses to act its age. Not only does the well-established company routinely upgrade its presses and prepress capabilities, Meyers' four-person research and development department (with a combined 80 years of experience) continually finds innovative solutions to meet its customers' increasingly challenging demands.
"We come up with solutions to problems that nobody else seems to be able to figure out," explains VP of manufacturing Matt Moffett, who reports the company ships labels as far away as China. "We deal with companies like Hewlett-Packard, Microsoft, Hormel, and Target—large corporations that are global in nature—and we ship anywhere we have to. We're very customer focused, very customer driven. We provide great service and support. That's how we've been able to build the business."
Meyer's 185,000-sq-ft facility houses 15 presses, the largest being a 16-in., ten-color Gallus EM410.The other flexographic presses are from Mark Andy, Comco, Webtron (no longer manufactured), and a custom-built, 13-in. Delta Industrial installed in 2003.
In mid-2004 the company added a seven-color HP Indigo WS4000 digital press that further enhanced its broad capabilities. But the investment that brought the company—which was established before the advent of pressure-sensitive labels—into the new millennium was the 2000 installation of a Kodak Thermoflex platemaking system with DuPont Cyrel FAST digital processing, the first sold in North America.
Meyers also utilizes Kodak's Prinergy workflow system and its Approval system for all high-end contract proofs.
Dramatic Efficiencies
Moffett says the Thermoflex not only improved quality but also slashed platemaking times to about one hour, compared to traditional solvent wash systems that can take a minimum of three hours to get even "marginally" ready for press and as long as 24 hours to extract all the solvents and fully harden. "A lot of printers have looked at the digital plate costs over the years, which are 20 percent higher than traditional plates, and shied away from it. But the efficiencies are dramatic," Moffett says of the Thermoflex. "We can produce a plate and be back on press in less than an hour.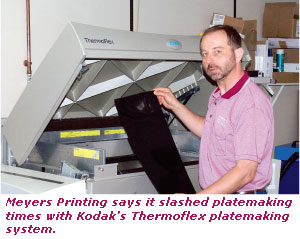 "We thought it was state-of-the-art when we purchased it, and we've only reaffirmed that over the past few years," adds Moffett. "We did look at other workflows at the time we purchased the Thermoflex, and we thought the Kodak Prinergy system really worked well and fit the direction we were heading as a company. It also had better integration with the Thermoflex than any of the competitive equipment out there."
Meeting a Digital Challenge
The Kodak technology allows Meyers to serve one of the world's largest and most quality-conscious companies: Microsoft. One of the innovations Meyers developed specifically for the software giant was a digitally produced, flexo-printed activation card that allows X-Box computer game users to sign for a free 30-day trial. The cards previously were produced using offset lithography. "We couldn't have done it without digital plate technology and the workflows it offers," notes Moffett. "If we had to go back and do it the old way, the print quality wouldn't be there."
Ironically, when Meyers entered the digital printing market with the purchase of the Indigo press, it was to be used primarily to produce Microsoft security labels as a subcontractor, supplying 10 million labels each month that were applied to the back of every piece of software Microsoft shipped worldwide.
Just months later, the primary supplier lost the order. A full 80% of production on the HP was dedicated to Microsoft; 20% went to Hewlett-Packard. Ultimately, however, Meyers began printing the labels directly for Microsoft.
Meyers quickly incorporated the Indigo press into its innovative security label production. "It's been a bit of a challenge for us, because I don't view the Indigo as primarily a short-run, prime-label press," notes Moffett. "You can do that for sure, but we think there's more value using its flexible technology to be able to use variable data and deliver value-added product. We've been educating ourselves on how to do it better, as well as looking at the marketplace and what fits our customers."
Meyers also was an early entrant in e-commerce, establishing a separate division called Desktop Labels (desktoplabels.com) that offers a range of EDP labels and products that can be shipped on demand. They include laser and inkjet labels; white, clear and color polyester labels; repositionable and thermal labels; cardstock; and ribbons.
"Our strength," says Moffett, "is innovation, looking at opportunities, and building out the process. Especially for our security customers, we don't just produce a standard item; we look at what their needs are and build a process that fits the need."
---
---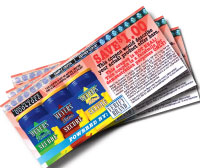 Fighting Fraud
Meyers Printing Cos. used digital plate technology to develop a high-tech security label—one of its key market niches—to combat a counterfeiting scheme that resulted in $200,000 in fraudulent claims during a single 2006 promotion involving coupons for a free product.
"We're finding that there's a lot of fraud in the marketplace," says Matt Moffett, VP of manufacturing. "What's happening with desktop publishing is that people will take these coupons, scan them, doctor them up, and even sell them on eBay."
Meyers countered the growing counterfeit threat by developing a coupon that integrated holography, microprint, and other security printing features that make them easily detectable at the checkout counter. The Kodak Thermoflex platemaking system, along with 3M Security film products, were critical in its development as well. Explains Moffett, "We're merging our promotional business with our security business and creating high-value security coupons."
---
CONVERTER INFO:
The Meyers Printing Cos. Inc. | Label Group | 7277 Boone Ave. N., Minneapolis, MN 55428 | 763-533-9730 | meyers.com
SUPPLIER INFO: