Published: December 01, 2006, By Calvin Frost, Channeled Resources Group
---
Part 1
| Part 2 |
Part 3
|
Part 4
---
A Call to Arms
Having won the 2006 R. Stanton Avery Lifetime Achievement Award—reaching what many would call their "greatest moment"—some would suggest it's time to shrink back into oblivion, relax, take a deep breath, and let island breezes lull me to sleep.
Not so fast! During a conference session at Labelexpo Americas 2006 in Chicago, an executive in packaging management from one of the largest breweries in the world asked: "Is release liner really recyclable?"
How can you rest and relax when questions like this still are being asked by leading users of self-adhesive?
Frankly, I was shocked. Does ignorance of release liner recycling still exist? If so, doesn't it make sense for all participants in the "liner world" to join forces and develop educational processes that prevent this kind of question from being asked in the 21st century?
I suggest silicone manufacturers, paper and film manufacturers, and other users form a coalition to promote release liner recyclability. If questions like this are being asked by leading consumers of self-adhesives, we've all done a poor job in telling the "spent" liner story. Or people don't care, aren't listening, or just won't listen.
Spent Liners Are Recyclable
Spent liners—all of them—are recyclable. Bleached and natural, blue and yellow colored, poly-coated, film-based, silicone-coated liners are all recyclable. There are issues of segregation by type, packaging requirements, and quantity that enter into successful recycling—but spent liners are recyclable.
It is interesting to consider a liner-recycling program in terms of contribution to the environment versus cost. In Europe, the average tipping fee (cost of disposal, e.g., container unit, haulage, and disposal charge) translates to US$120–$200/short ton.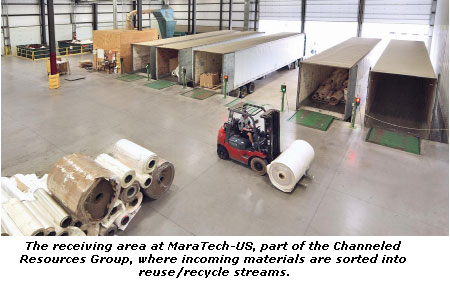 In the US, tipping fees are cheaper. We have less regard for filling holes, transportation costs, effect of transportation on the environment, etc. When will this change? Our average total costs are approximately $35/ton, subject of course, to demographics.
Making Paper is Energy-Intensive
Worldwide pulp prices as of October 1 approached US$700/MT (metric ton). Further, making paper is one of our most energy-intensive industries and, obviously, affects our natural resources, generates effluent and emissions, and so on. Therefore, it is cheaper in today's marketplace to use spent silicone-coated paper liners as raw material for paper-based products rather than virgin pulp.
In addition, the recycled fiber has less residual effect on our environment. To be sure, spent liner may not be an effective substitute for pulp in basestocks for silicone coating, but we have a host of paper-based products, namely toweling and tissue, where spent liner is a perfectly satisfactory substitute for virgin fiber.
Trying to encourage the use of spent liners as raw material has been onerous to say the least. For example, there is a disconnect between the paper industry in Europe and America.
I have talked about using spent liner as secondary fiber to several mills in Europe that are owned by American-based organizations and have repulping equipment identical to that at their sister mills in the US. In America they use it. In Europe, "it can't be done." What a shame.
In both North America and Europe, we have tons and tons of spent liner going into landfill at a huge cost. Spent liner is a resource that can be used. It is environmentally unfriendly to dump it. It is not cost-effective to throw it away. But the industry continues to turn a deaf ear.
One of our group's companies developed Envirocheck, a liner-recycling program created to deal with legislation in the UK that has defined release liners as packaging waste. That means you can't throw it away. The printing industry in England understands there is a problem, realizes it is criminal to throw away spent liner but declines to embrace the solution due to cost. The result is illegal dumping of spent liners at an average cost of £60/tonne.
So Much to be Done!
There is much to be done: Commit to recycling, climb on the train to change, embrace better stewardship, and so on. It is only the hearty that will reach out to be part of the process and take up the challenge—but for those that commit, the rewards will be great.
---
Calvin Frost is CEO of Channeled Resources Group, Chicago, IL, and winner of The Label Industry Global Awards' R. Stanton Avery Lifetime Achievement Award, presented September 11 at Labelexpo Americas 2006. He can be reached at 800/887-6866; channeledresources.com. For more on Calvin Frost, see PFFC's "Experience Speaks" column in September 2006.
---
---
Part 1 | Part 2 | Part 3 | Part 4
---