Published: December 01, 2006, By Corey M. Reardon, AWA Alexander Watson Assoc.
To view the entire Special Report a as PDF, click the link below:
---
---
Part 1 |
Part 2
|
Part 3
|
Part 4
---
Outlook:Challenging
The release liner industry is at a pivotal point in its development with raw material and petrochemical prices continuing to rise, the increasing purchasing power of international buyers, the emergence of alternative solutions, perceived environmental issues, and an unprecedented level of industry consolidation.
Taking into account additional factors in the label industry—the major market for release liner—such as the dominance of brand owners and retailers, alternative labeling and product decoration technologies, and the competitive business environment, the prognosis is even more uncertain.
Market Dynamics
Driving growth and new product development in an industry such as release liner—just one part of a complex value chain—is extremely challenging.
For pressure-sensitive labels—now reaching maturity in developed markets—the case increasingly is made for pursuing and defining a proactive and collaborative approach to end-users with other suppliers in the value chain, from raw materials suppliers to converters.
There are moves in the direction of simplifying the complexity of the supply chain through acquisition to keep such "collaboration" in-house. Mondi Packaging, for example—now with interests in most aspects of the packaging market—has acquired Akrosil and may be looking at further acquisitions.
Loparex Group recently acquired US-based Douglas Hanson, expanding its positioning in the field of silicone-coated release papers and films.
P-S Labels & Tapes
AWA's current assessment of the p-s labeling market is that the primary label segment is solid, and the technology still offers significant growth opportunities, particularly in specific applications (see Figure below).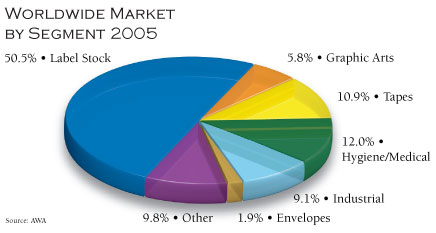 Glue-applied labels have a 69% share of today's primary label market, but the 22% share for p-s labels should be viewed as an indication that future expansion and market penetration still are possible. Annual global growth in p-s labeling currently is about 5% against glue applied's 2%. (The fastest growing product decoration technologies currently are in-mold at 14%/yr and stretch sleeving at 8%–10%/yr.)
In market application areas such as the beverage market, p-s labeling technology is expanding and also is satisfying many new value-added labeling applications like RFID.
Linerless technology has made few inroads, except in print-on-demand/logistics applications.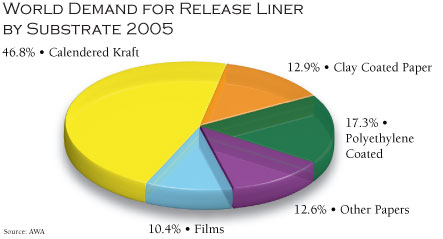 It is worth noting that in 2005 approximately 45%–50% of all North American p-s label stock production was for variable information printing, and the VIP segment continues to show consistently higher growth rates than primary labeling.
Specialty tapes continue to grow annually in North America and Europe at a rate between 2% and 4%. In a global context, Asia Pacific already is the largest regional market for tapes, and it is forecast to become the largest producer of specialty tapes within four years.
Liner Substrates
Film liners represent the biggest potential source of growth (up to 15%) over the next three to five years, especially in high-volume prime label FMCG (fast-moving consumer goods) applications, although paper liners continue to enjoy the majority of the business due to their lower cost, caliper downgauging (more labels per roll), and technology enhancements throughout the siliconizing/release paper value chain (see Figure below).
Geographical Markets
North America continues to enjoy the largest market share for release liner and is growing at about 2%–4% across all end-use markets, with p-s laminates contributing the major share of that growth, particularly in industrial and medical/hygiene applications rather than labeling (see Figure below).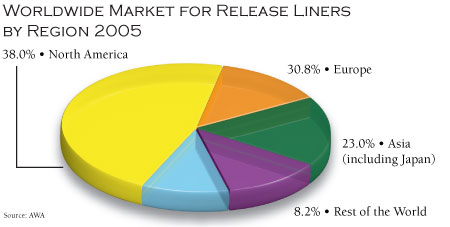 Developing markets across the globe—including South America and India as well as Asia Pacific (and particularly China) and the emerging economies in eastern Europe—continue to represent an opportunity for North American and European suppliers in the release liner value chain for all p-s applications.
In South America p-s usage of liner is expected to double by 2010 now that the South American economies are, once again, in stable growth. Brazil, Argentina, and Chile currently are the lead countries in the region.
A Positive Outlook
Across the globe AWA's research is confirming that the release liner industry is acting on many of the threats that have assailed it in recent years: high-cost components, environmental issues in the label segment, and decoration technologies that compete with p-s labels in developed markets.
The industry today is characterized by significant "prospecting" in the world's developing economies, both through exports and through inward investment.
It also is consolidating to gain value chain synergies and better cost control. These are positive moves that certainly will protect release liner's future.
Global Release Liner Conference
In spring 2007 AWA Conferences and Events will host the annual AWA Global Release Liner Industry Conference in Chicago, with the addition of a workshop series and a Contract Converting Forum. I expect to hear from industry leaders in all value-chain segments and in all end-use markets that there is real forward movement and real innovation, driven by dynamic opportunities in new markets and supported by the core p-s label markets in North America and Europe.
---
---
Focus on Asia
We have seen a major market shift in the past year. In 2005 the release liner market in Asia expanded at a rate of approximately 10.5%—faster than any other geographic region worldwide—and this growth rate is being maintained, reflecting increasing demand and strong economic conditions.

We estimate Asia now accounts for 23% of the world market. Strong growth is expected to be a feature of the Asian market at least through 2010, with the drivers being self-adhesive labeling and fastening (tape and hygiene applications).

While much of that consumption has been met, until now, by imported substrates from America and Europe, an indigenous substrate market now is developing in the region, which is likely to threaten the traditional suppliers in the long term.

However, the established release liner industry in North America and Europe is investing in Asia, particularly China, to secure continued market share.

In-house silicone coating—primarily by the self-adhesive label stock producers—accounts for about 60% of all release liners produced in Asia, with the majority of all in-house silicone coating undertaken by companies such as Avery Dennison, UPM Raflatac, Lintec, Kinglabel, KK Label, and Saelim.

Commercial Silicone Coating
Commercial silicone coating accounts for about 40% of all release liners produced in the region, although considerable quantities of liner are imported from outside Asia, produced by commercial silicone coaters in Europe and North America.

Competition continues to increase, and the market across Asia continues to be especially fragmented, with a number of European companies also expanding into the region, most notably Loparex, with coating operations today in China and India.

AWA Alexander Watson Assoc. recently published Asian Release Liner Outlook 2006—Market Study and Industry Sourcebook, which covers all the major aspects of the industry including materials and markets, and concludes with directories of silicone suppliers, release base paper suppliers, release base film suppliers, and release liner producers across the whole of Asia. For more information visit awa-bv.com.
---
Corey M. Reardon is president and CEO of AWA Alexander Watson Assoc., Amsterdam, Netherlands, a market research firm specializing in packaging and converting. Contact him at +31 (20) 676 20 60; awa-bv.com.
---
---
Part 1 | Part 2 | Part 3 | Part 4
---