Published: May 31, 2006, By Edited by Deborah Donberg, Associate Managing Editor
Narrow Web Machinery, Materials, Accessories & Services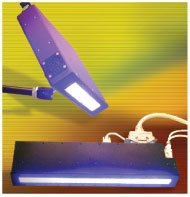 Use UV with Low Heat
Phoseon Technology, Hillsboro, OR; 503/439-6446; phoseon.com
The RX Starfire high-intensity, semiconductor-based UV light system is based on company's SLM (Semiconductor Light Matrix) technology. Said to provide pure UV light output with low heat generation, significant reductions in power usage, and longer lifetimes. System is designed to complement company's RX family of wide-area UV light systems to serve larger format UV inkjet applications.

---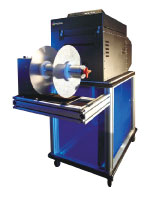 Digital Press Offers Quality
Degrava Systems, Roswell, GA; 678/323-0340; degrava.com
The DP-8500 digital press for labels, tags, and forms is powered by company's Color Pro color management system. Reportedly will RIP challenging images quickly while providing consistently professional quality color. Color print speeds are to 5 ips. Said to be affordable, press prints on industry-standard converted or nonconverted face-stocks, paper, synthetic, and adhesive-backed substrates.



---
Laser-Cutting Contract Service
Spartanics, Rolling Meadows, IL; 847/394-5700; spartanics.com
Company offers a laser-cutting contract manufacturing service for jobs of any length, including the full range of special features possible with company's Klemm digital die-cutting system, roll or sheet, through-cutting, kiss- cutting, scoring, perforating, and more. Service will be able to handle a wide range of paper, plastic, foil, adhesive, abrasive, thin PCs, etc.

---
PP Film for Economic Use
FLEXcon Co., Spencer, MA; 508/885-8370; flexcon.com
Company offers optiFLEX PP 260 H White TC-237 V-81 TRACrite 120. Product is designed for price-sensitive labeling of semi-rigid and rigid containers for health and beauty, household and chemical, and food applications. The 2.6-mil, hard white cavitated film is coated with a permanent acrylic PSA and backed with TRACrite 120 ultra-smooth polyester release liner. Topcoat is said to offer consistent ink adhesion and is compatible with a wide range of print methods.

---
Curing Lamp for Inkjet Use
UV Process Supply, Chicago, IL; 773/248-0099; uvprocesss.com
The Con-Trol-Cure inkjet curing lamp system has a small footprint that can fit into the confined areas of most inkjet printers and is offered with a variety of lamp reflector assemblies. Power supply is a solid-state electronic (not magnetic) ballast said to provide superior efficiency. Offered in a variety of configurations (shuttered or unshuttered), sizes, and focus lengths.

---
Shrink Label Films Have Clarity
Klöckner Pentaplast of America, Gordonsville, VA; 540/832-3600; kpfilms.com
Pentaprint E746/92 AS7 high-clarity polyester film for full-body shrink-sleeve label and multipack applications is said to provide good clarity. Suited for products printed with 360-deg graphics and where 60% shrinkage is sufficient.

---
Label Paper Shows Off Spirits
Stora Enso, Stevens Point, WI; 715/345-8060; storaenso.com
NovaSet is designed for premium beverages such as wine, champagne, and spirits. This 80-gsm, high-white, natural matte paper is said to offer wet strength, alkali resistance, high wet opacity, and trouble-free, economical use.

---
UV Offset Ink Aids Productivity
XSYS Print Solutions, a Flint Ink co., Trelleborg, Sweden; +46 410 59200; xsys-printsolutions.com
Lithocure 3G UV offset ink has excellent printability and color strength and allows printers to work with a large operating window in fount and water settings.

---