Published: May 31, 2006, By Edited by Deborah Donberg, Associate Managing Editor
Narrow Web Converting Industry News, Events & Activities
Four Nations and Envelopes
ALEXANDRIA, VA—The Envelope Mfrs. Assn.'s Global Envelope Alliance (GEA) recently released "Changes in the Global Paper Industry: An Assessment of Brazil, Russia, India, and China [BRIC]."
Conclusions include the following:
With the exception of China, every other BRIC nation has envelope folding capacity in excess of current postal demand.
In most of these nations, the printing and writing papers market has increased only nominally.
The electronic communications marketplace is expanding about as fast as the paper-based marketplace.
The report is free to GEA members and is available to EMA members for $100 and non-EMA members for $300. For more information contact Kim Moses at
This email address is being protected from spambots. You need JavaScript enabled to view it.
or call
703/739-2200.
---
Joining to Benefit UV Offset
TURATE, ITALY—Gidue and Nuova Castagnoli, Florence, Italy, report an alliance for the development of UV offset technology. The companies will share technology and distribution networks, with Gidue responsible for sales and service activities worldwide for the printing units.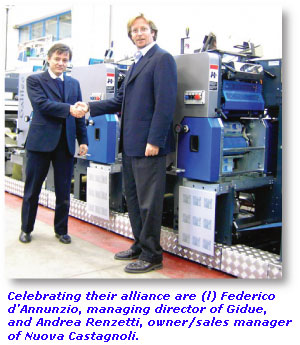 The first objective of the two companies is the launch in the second half of 2006 of a new press line designated Xpannd. The press will feature PC Nemo press interface, Siemens servo technology, Flower flexo print units, Galileo UV offset print units, and a new hot stamping system developed by both Gidue and Nuova.
---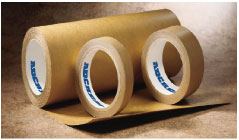 Tape has Double the Benefits
RIVERHEAD, NY—Double-coated tape 5944M from Adchem Corp. combines the benefits of rubber and acrylic adhesive technologies. Tape is designed for demanding foam fabrication bonding applications in transportation and appliance industries requiring insulation and sound reduction.
Tape features a high-tack, high-peel, moderate shear rubber-based adhesive coating on the liner side. Exposed side is coated with a high-tack, low-shear, acrylic adhesive. Carrier is 0.5-mil polyester film to facilitate die-cutting.
---
RFID Capabilities Broadened
DALLAS, TX—Texas Instruments is broadening its line of Tag-it transponders with new memory, data protection, and form-factor options.
Now offered in both 256- and 2,048-bit memory options, the expanded Tag-it HF-I line introduces new tracking and authentication capabilities said to provide system integrators and application providers the flexibility to build a host of data protection and privacy functionality options into their RFID solutions.
---
MPI, Alien in RFID Partnership
SEBRING, OH—MPI Label Systems has enhanced its relationship with Alien Technology, Morgan Hill, CA, a provider of RFID products for global customers. The new partnership allows MPI to offer lower prices on Gen 1 and Gen 2 RFID labels. "We are very pleased to enter into this partnership with Alien," says MPI's president Randy Kocher.
"…they have a proven record for being a price leader while still providing exceptional quality."
---
Meridian to Resell for Stratum
LITTLETON, CO—Stratum Global announces a partnership with Meridian Leasing, Deerfield, IL, in which Meridian will resell Stratum's TagNet RFID solutions.
According to Angela Trillhasse, senior VP, solutions and delivery, at Meridian, "We have seen a tremendous interest in RFID within our existing customer base in the last 12 months. Stratum Global has a complete solution and a customer base to back it up. Their industry expertise and methodology have shown that with a phased strategy, a solid software product, and good planning, RFID can and will provide ROI."
---