Published: March 31, 2006, By Stanley Sacharow, Contributing Editor
Metallized Films
Located 30 minutes from Toronto's bustling Pearson Intl. Airport is the headquarters and production facility of Celplast Metallized Products. The firm, which began as a film trading company in 1976, is Canada's largest merchant film metallizer, ranking second in North America.
Presently operating in an 80,000-sq-ft facility with more than 50 employees, the company is privately owned by Chuck Larsen and Bill Hellings, both former Celanese employees. In the early 1980s they developed a relationship with a US-based metallized-film producer and began distributing films. Celplast Metallized Products was established in 1984 with one 80-in. metallizing chamber and rewinder.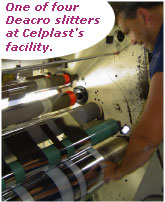 During an exclusive visit by PFFC to Celplast's Toronto facility, CEO Larsen said, "We have reinvented our business model over the last two years." Dante Ferrari, product development engineer, adds, "We made a business decision to go value-added on our products rather than commodity-based. Although we do market commodity films, our focus is now on specialty metallized films.
"Our employees are among the most well trained in the converting industry. Whenever we apply their wealth of knowledge to develop new products and increase our customer base, our profit-sharing program ensures that they share in our success."

On the Fast Track
From its inception, Celplast has grown dramatically. Originating as the contract metallizer of choice to some of the major polypropylene (PP) film manufacturers in North America, Celplast's metallizing production capacity is now in the 18 million lb/yr range. This volume is buoyed by a recent partnering with the Ceramis business unit of Alcan, resulting in Celplast's exclusive North American distribution of Ceramix SiOx (silicon oxide) coated PET film.

With the growing interest in transparent microwavable retort pouches, Ceramis is on the fast track in the clear barrier category. A recent example of the film's popularity is the award-winning package at the Paris-based SIAL d'Or exhibition. The unit consisted of a PP microwavable bowl with two separate Ceramis-containing stand-up pouches for Australia's Simplot Leggo's Pasta Meals.
The company also won in the tube category with Bed Head's five-layer tube for "Dumb Blonde Reconstructor" shampoo (CCL Container, Naperville, IL).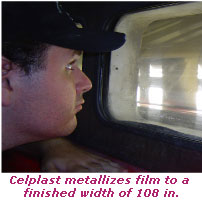 Thick and Thin
The spotless plant contains multiple film metallizers, allowing Celplast to offer metallized film to a finished width of 108 in. and up to 32 in. in diameter.

Jim Lush, market manager, says, "We have extensive metallizing experience with thin and thick films. Our experience includes PET, biaxially oriented PP, low-density and linear low-density polyethylene, cast PP, and even woven and nonwoven fabrics."
In addition, all Celplast production has continuous on-line monitoring across the web, off-line optical density and roll hardness measurements, and full roll traceability.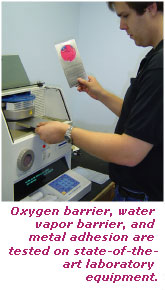 The lab contains state-of-the-art oxygen barrier, water vapor barrier, and metal adhesion testing equipment.
The company continually is exploring new and improved metallized film areas. Product enhancement and technical competence are important aspects of Celplast Metallized Products. Foilmet is its proprietary, homegrown metallizing process, developed to produce high-barrier metallized films.
Just recently, this novel metallizing process has been applied at a higher optical density on standard 48-g PET film, reportedly yielding metallized PET films with barrier properties similar to those of aluminum foil.
Rolls run under the Foilmet Plus process are certified with oxygen transmission values of <0.02 cc/100 in.2/day and moisture vapor transmission rates of <0.02 g/100 in.2/day.
The material is aimed at converters requiring a cost-effective replacement for aluminum foil.

Supermet is a recently developed high metal adhesion metallized PET.
Lush says, "Our Dempster's metallized bread bag won the 2004 AIMCAL [Assn. of Industrial Metallizers, Coaters & Laminators] Peter Rigney Product of the Year award." He adds that "metallized bread bags are now commonplace in Canada but not yet in the United States."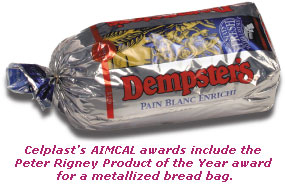 The increase in bread shelf life would be advantageous to consumers and the baking industry, and the metallized appearance reinforces the perception that consumers are buying a high-value product.
In order to focus even more effectively on value-added products, Celplast Metallized Products is a vibrant contributor to many industry trade organizations, including AIMCAL, Flexible Packaging Assn., TAPPI, and Society of Plastics Engineers. New developments often are stressed in these presentations.
It is the unbeatable combination of new processes and unique substrates that likely will give Celplast a leadership position among metallizers for years to come.
---
---
CONVERTER INFO:
Celplast Metallized Products
67 Commander Blvd., Unit 4
Toronto, ON, M1S 3M7
Canada
416/293-4330; cmp.celplast.com

SUPPLIER INFO:
Deacro Industries—deacro.com
---
---
Stanley Sacharow has been in the flexible packaging industry for more than 35 years. His company, The Packaging Group, is an organizer of targeted conferences and a consultant to the international packaging/converting industry. Stan is also the author of PFFC's "Package Converting" column. Contact him at 732/838-0885; This email address is being protected from spambots. You need JavaScript enabled to view it..
---
---