Published: November 30, 2005, By Edited by Deborah Donberg, Assoc. Managing Editor
Narrow Web Converting Industry News


FVTC Gets an Updated Press
APPLETON, WI—Fox Valley Technical College (FVTC) has updated its narrow web pressroom by replacing a 7-in. Comco Cadet with a new six-color, 7-in. Mark Andy 2200. The college reports a partnership with Mark Andy made the upgrade possible. Rotometrics Group supplied the tooling for the press; Praxair and Harper Corp. supplied anilox inventories.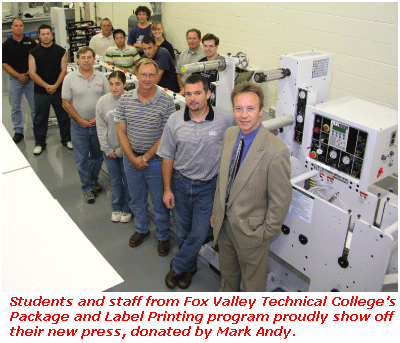 "The new press is a tremendous addition to our already world-class facility," says Gary Kilgas, dean of FVTC's Graphic Arts Div. "[It] allows our students to gain the skills necessary to be successful in the industry today and into the future."
SUPPLIER INFO:
Mark Andy—PFFC-ASAP 310. markandy.com
Rotometrics—PFFC-ASAP 311. rotometrics.com
Praxair Surface Technologies—PFFC-ASAP 312. praxair.com
Harper Corp. of America—PFFC-ASAP 313. harperimage.com
---
Merger of European Operations
MASON, OH—Spear, a supplier of clear-film p-s labeling services with plants in the UK and US, has merged its European operations with Illochroma Labelling Group, a supplier of wet glue and film wrap labels with production facilities in Germany, France, Belgium, Italy, and Poland. The new company will operate under the name IlloSpear. (IlloSpear actually was created as a joint venture in November 2003 to develop and sell clear labeling systems for the beverage industry. Market success has resulted in this move.)
Spear will continue to operate as an independent company and will be responsible for supplying the IlloSpear product line in North and South America. IlloSpear will have responsibility for these products in the rest of the world.
---
---
TLMI Draws a Winning Hand
By Debbie Donberg Associate Managing Editor HENDERSON, NV—Attendees at the 2005 Annual Meeting of the Tag & Label Mfrs. Inst. (TLMI) were all big winners if what you're counting is information, fun, and perfect weather. Held October 19–22 at the elegant Ritz-Carlton Lake Las Vegas, the event offered three morning sessions, an evening tabletop exhibit/reception, and an awards banquet, in addition to extracurricular activities that included a golf outing, poker tournaments, and more. Total attendance was appoximately 440.
John Mitchell of M&H Economic Consultants delivered the first presentation. The economy has been growing since the end of 2001, he reported, with a long period of sustained low inflation. Mitchell said the recent catastrophic hurricanes will require increased federal spending, energy costs will continue to have an impact, and no one knows when or if the real estate boom will go bust. Despite these and other risk factors, he is optimistic and believes the economy will experience only "bumps in the road."
In an entertaining and energetic presentation, author and marketing expert Rick Barrera told the audience to "overpromise and overdeliver." Separate yourself from your competitors by offering something radically different, Barrera said. Pick things to focus on that matter to your customers and do them better than anyone else. How do you know what matters to them? Talk to them, Barrera emphasized strongly. Even more important: Talk to your potential customers! In the third session, a panel addressed Lean Manufacturing, with several converters telling their stories.
At the Friday night awards dinner, Walter Dow, founder and CEO of Dow Industries, was honored as Converter of the Year, and Ferd. Rüesch Jr., chairman of Ferd Rüesch AG, was named Supplier of the Year for his service to TLMI and the industry. Environmental Leadership Awards went to DuPont Teijin Films and G3 Enterprises Label Div. For a review of the 28th Annual Awards Competition, see the November issue of PFFC, p43.
For more information visit tlmi.com.
---