Published: November 30, 2005, By Nsenga Byrd Thompson, Associate Editor
Digital Proofing
Macaran Printed Products prints high quality flexographic labels on a broad range of pressure-sensitive and non-p-s substrates ranging from paper, film, and foil to holographic and tag-stock material. Getting more accurate proofs for such a wide spectrum of substrates was a challenge that led the company to pursue a new proofing solution.
Nick Van Alstine, president of Macaran, says, "Our old traditional proofing system really wasn't doing the job for us anymore. It was producing a proof but not one that could really narrow the gap between what the proof looked like and what the finished product was going to look like. We wanted to find a system that would really help us narrow that gap."
The solution Macaran turned to, with the help of its Pitman representative, was Latran Technologies' Prediction digital halftone proofing system.
A Prediction for Quality Proofing
Sonya DiGirolamo, manager of Macaran's prepress department, observes, "From a prepress standpoint, we selected Latran's Prediction based on one thing that no other proofer we looked at could do—proof directly on the same specific substrate that we were going to print the job on. We also like the fact that we have more control of the proofs to the printed piece because, like our press, the Latran prints the proof using dots."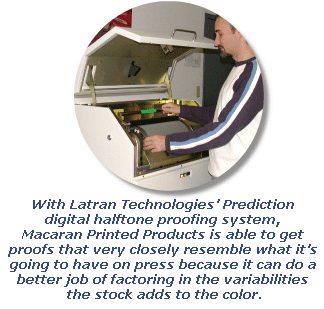 Macaran calibrated its Prediction system for the company's presses, establishing curves and calibrations that work for a range of labels, products, and substrates. If the company gets a particularly intricate job that is going to run on a unique material, a special calibration adjustment may have to be made, but it's not a daily requirement.
DiGirolamo underscores the Prediction's ease of operation: "It's much quicker to make a high-end proof with the Prediction. That becomes especially important if we have to go back and rework a file. We can see very quickly what a job really looks like with the latest changes before we go to press, because we're able to simulate an actual label with the Prediction proof."
Customer Satisfaction
Van Alstine says customer acceptance of Macaran's Prediction proofs has been strong from the beginning. "Nine out of ten of our label proofs come back with a sign-off the first time through. One customer even used Prediction proofs to create prototype labels for use at a trade show. His Prediction label proofs were hand-cut and applied to his product package, saving time and avoiding press set-up costs."
The fast turnaround capability of Prediction also has proved to be a valuable asset for Macaran's customers, according to Van Alstine. "One of our customers was already critically behind in his production schedule when he came to us with a large number of products needed for a major product launch. We were able to produce 35 color proofs on the Prediction system for him in two days and get every one of his label jobs on and off press in time to hit his deadline. We never could have done that with our previous proofing system."
---
---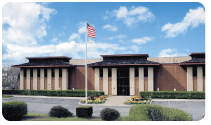 CONVERTER INFO:
Macaran Printed Products, div. of W.N. Van Alstine & Sons
18 New Courtland St.
Cohoes, NY 12047
518/237-1436; macaran.com
SUPPLIER INFO:
Latran Technologies— latran.com
---